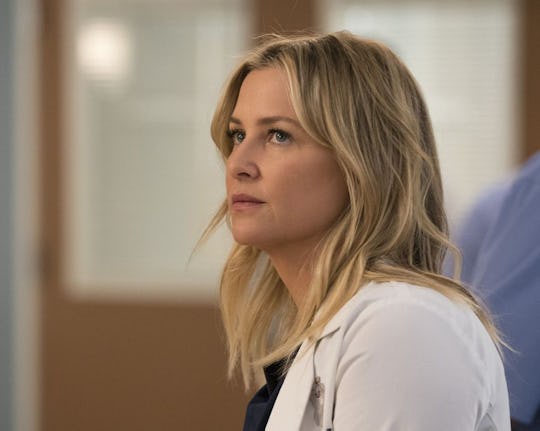 Mitch Haaseth/ABC
What Jessica Capshaw's Departure From 'Grey's Anatomy' Could Mean For Arizona's Fate
After appearing on Grey's Anatomy since Season 5, it was announced last week that Arizona Robbins (played by Jessica Capshaw) would be scrubbing out of the series for good after Season 14. Now that the secret is out, fans have been speculating what will cause Arizona's departure. And while fans don't want to believe it, they can't help but wonder: will Arizona die on Grey's Anatomy?
Deadline broke the news last week that both Capshaw and Sarah Drew, who plays April Kepner, will be leaving Grey's after Season 14. The news came as a shock, especially because unlike other characters who have departed the show, it was not either actresses' choice to leave. Instead, the producers made the decision not to renew Capshaw and Drew's contracts for the next season.
Sources told Deadline it was a "creative decision" for both actresses to exit the series and in a statement, co-showrunner Krista Vernoff also said, "As writers, our job is to follow the stories where they want to go and sometimes that means saying goodbye to characters we love." Regardless of the reasoning, many fans are still disappointed about having to say goodbye to both Arizona and April and are hoping their exits won't include having the characters meet their maker. Thankfully, at least in Arizona's case, this doesn't seem like the route the show will take.
Unlike April, Arizona is currently in a good place in her life right now. Her daughter, Sofia, has moved back to Seattle to be with her, she's dating a hot OBGYN surgeon who's also her research partner, and she's really just all-around living her best life. If Arizona was to die, it would have to be in some tragic way and that would be a real risk for the writers to take for a number of reasons.
First, people are already upset that Arizona is leaving, especially because she's currently the only main LGBTQ character on the show. We already lost Callie, which makes the news of Arizona's departure all the more upsetting (though it's worth noting the show has introduced two new trans characters). So if Arizona has to leave the show, the least the writers could do is give her a proper send off like they did for Cristina Yang.
Second, and most importantly, there is a long history of lesbian (and bisexual female) characters being killed off of TV shows. Last year, a study revealed that 62 lesbian and bisexual female characters died over the past two television seasons, proving that the "Bury Your Gays" trope, as it's often called, is still alive and well. For Grey's to choose to not only have Arizona leave the show, but to also kill her off, could be seen as an incredible slight not only to the character but to longtime LGBTQ fans of the series who have seen Arizona as one of the most positive lesbian reps on television.
Not only that, but it would just be bad PR. People are still pissed that The 100 chose to kill off Lexa, the badass leader who finally slept with her longtime love interest Clarke only to end up accidentally killed. Lexa's death led to a number of think pieces and boycotts of the series, and with many Grey's fans already planning to boycott the series, killing off Arizona could very well be the last nail in the show's coffin.
Thus, Arizona will hopefully be fine. It's much more likely she'll be moving somewhere; possibly to New York so Sofia can be close to both of her moms. That being said, fans will just have to keep watching until the end of the season to know for sure how Arizona's story turns out.
Check out Romper's new video series, Romper's Doula Diaries:
Watch full episodes of Romper's Doula Diaries on Facebook Watch.