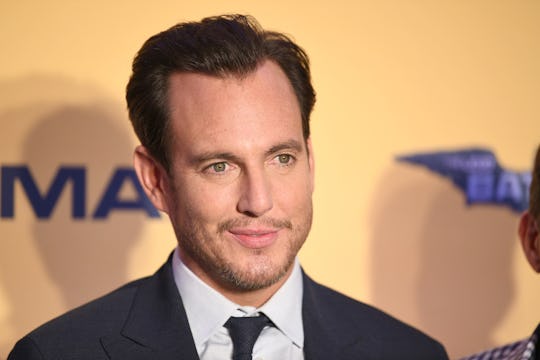 Dave Kotinsky/Getty Images Entertainment/Getty Images
Just A Casual Reminder That Will Arnett Is Serious #DadGoals
We all know that Will Arnett is a funny guy, but did you know he was also a great dad? If only because he promises it's true. Recently, Will Arnett said that he was #DadGoals, proving that even super successful celebrities need a little validation when it comes to parenting. At the Los Angeles premiere of his new movie, The Nut Job 2: Nutty by Nature, the comedian opened up about his sons Abel and Archie — whom he co-parents with ex-wife Amy Poehler — and revealed certain struggles he faces that some fans may not know about.
"I'm dad goals because I like to do the same stuff as my kids like to do," the actor said of his 7 and 8-year-old sons. He added, "I hope they take, hopefully, they get from me that I have an attitude — not taking myself, or themselves, too seriously." Arnett then joked that there's one thing he hope Abel and Archie don't get from him. "I hope that they don't take all my money," he laughed.
All jokes aside, Arnett has a point about his #dadgoals status: all it really takes is to enjoy spending time with your kids to get the honor and Arnett definitely seems to be into it. Voicing the lead squirrel in The Nut Job probably doesn't hurt either.
Arnett and Poehler split in 2012 after nine years of marriage, though they didn't finalize their divorce until 2015. Poehler opened about her divorce in her memoir, Yes, Please. The Parks and Recreation mastermind wrote:
Getting a divorce really sucks. Imagine spreading everything you care about on a blanket and then tossing the whole thing up in the air. The process of divorce is about loading that blanket, throwing it up, watching it all spin and worrying what stuff will break when it lands.
For Arnett, it was the kids that helped him through the rough times right after the split. He said:
All people have been doing since the dawn of time is trying to figure out how to live this life and be happy. I'm no different. I'm 43, and I've found my happiness — which is my kids.
All families go through rough spots. But with Arnett's #dadgoals and Poehler's sense of humor about motherhood and her badass brand of feminism, Abel and Archie are super lucky to have the parents they have.