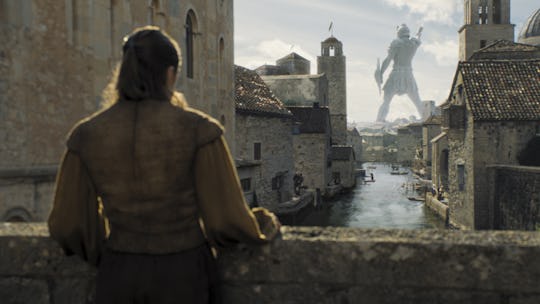 HBO
Will Arya Become Lady Stoneheart On 'Game of Thrones'? There's A Very Good Chance
If you've read the Game of Thrones books you've probably been anxiously awaiting the appearance of Lady Stoneheart. If you haven't read the books and don't want to be spoiled you should probably looking away now. In the novels, Catelyn Stark returns from the dead as Lady Stoneheart, looking to get revenge on everyone that wronged her family, particularly those involved in the Red Wedding. So far, however, Lady Stoneheart has not shown up on the show, and with each passing season fans worry she may never appear. However, just when we were starting to lose hope, Huffington Post gave us a mind-blowing theory that may prove Lady Stoneheart is coming back as Arya.
The theory suggests that instead of Catelyn Stark returning from the dead, Arya will take Catelyn's face and use her Faceless Man skills to become Lady Stoneheart and kill the Freys. The return of Walder Frey to this season of Game of Thrones already had fans speculating about an appearance from Lady Stoneheart, but it was Sophie Turner and Maisie Williams' answers in Yahoo's "2 Truths and a Lie" game that really solidified this theory.
In the game the person says two things that are true and one that is a lie, hence the name. For Turner she said the following three statements:
"Ramsay dies."
"Lady Stoneheart returns."
"Arya checks three people off her list."
Williams' statements were solely about Arya and contradicting to Turner's last statement:
"Arya goes to Westeros, back over the sea."
"Arya is in the trailer more times than people have realized, because they don't realize it's her."
"Arya doesn't cross any more names off her list."
Based on set leaks, HuffPost suggests Ramsay won't die, at least not this season, which means Sophie's other two statements are true and Maisie's last statement is a lie. Therefore, in theory, Lady Stoneheart is returning and Arya crosses off three people off her list. Who better to start off with than Walder Frey? Maisie's other statements support this idea because she says people wouldn't recognize her in the trailer. That's probably because she's using some else's face in the trailer and although we definitely would've noticed if Catelyn Stark just appeared in the trailer, for practice, Arya could've been wearing anyone's face.
HuffPost gives even more evidence noting that characters from the Brotherhood Without Banners, the group that Lady Stoneheart leads in the books, have been casted for Season 6. Arya could use some help now that the Waif stabbed her (multiple times) and it's possibly it's the Brotherhood that comes to her aid.
Though it's still unclear how Arya will get her hands on her mother's face, it'll be interesting to see if this theory holds true. Whether it's Arya or Catelyn Stark herself, hopefully Lady Stoneheart will finally make an appearance before Season 6 is through.