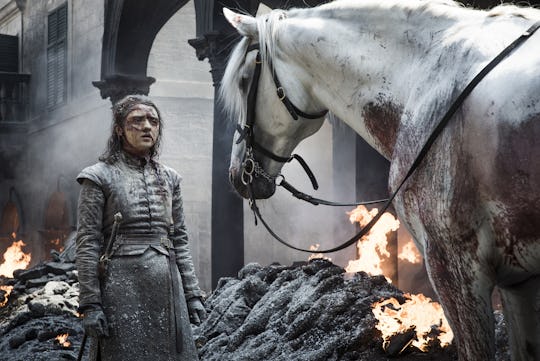 Helen Sloan/HBO
Arya Could Be The One To Take Down Daenerys On 'Game Of Thrones'
In the battle at King's Landing last night on Game of Thrones, Daenerys went from badass queen of the Andals and the First Men to mad queen who "burned them all" just like her father had wanted to do when he was the king of Westeros. After she obliterated millions of people with her armies and dragon, Daenerys officially descended into madness and Arya might be the only trained assassin to take her out. But will Arya kill Daenerys on Game of Thrones? There are some clues to suggest that she is coming for the Dragon Queen.
Arya is one of the few survivors who witnessed Daenerys' rampage firsthand in King's Landing. In the preview for next week's series finale, Arya is still in town. If she had no intention of confronting Daenerys or even wearing someone's face to get close to her, I think she would have taken that perfectly placed white horse and rode north back to Winterfell.
While the fact that Arya is sticking around doesn't necessarily mean she is going to kill Daenerys, it does mean she has a reason for not getting the Hell out of dodge when Daenerys is more unpredictable than ever. The biggest explanation is that Arya plans to kill Daenerys and there are some clues that support this.