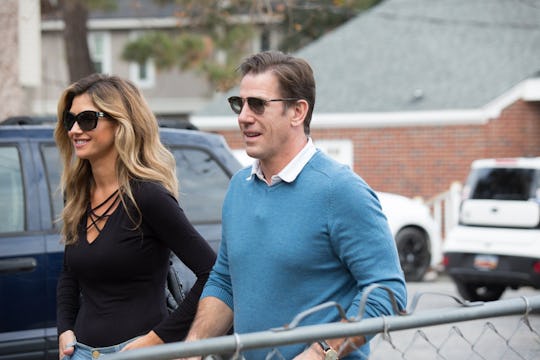 Paul Cheney/Bravo
Fans Can Expect To See Ashley At The 'Southern Charm' Reunion
Thomas Ravenel won't be attending the Southern Charm Season 5 reunion special because he's currently under investigation for two allegations of sexual assault. But what about his girlfriend Ashley Jacobs? Ashley joined the cast this year but didn't make a particularly good impression on her co-stars after starting fight after fight with Thomas' ex Kathryn Dennis. With everything that's happening, both on and off the show, will Ashley be at the Southern Charm reunion?
She definitely will. Host Andy Cohen confirmed that on Watch What Happens Live the day the reunion was filmed. "It was intensely dramatic, which is why I have droopy everything tonight, and Ashley was there," he said. "It was really something." Then, while talking to ABC News, Andy claimed that "what happens at the reunion is jaw dropping," after being specifically asked about Ashley's meltdown in the season finale.
The reunion must have taken things to the next level, because Andy already called Season 5 of Southern Charm the "most dramatic" in a behind-the-scenes video for the Bravo website. He said he was stunned by the show this year — but mainly by Ashley. If the reunion manages to out-shock the season, then it really can't be missed.
But even if she makes a big impact, Ashley might not be present for the entire length of the reunion. Ashley wasn't on the official seating chart released by Bravo, so there is a chance she's not a permanent guest on the couch. Perhaps she will only join her co-stars for part of the evening. A first look at the reunion on Bravo's website shows the rest of the cast starting the discussion without Ashley present, but then a car pulls up and she heads inside to get ready. So while she's definitely going to be there, she probably won't be there the whole time.
According to Page Six, an insider offered some insight into what went down during filming. While the information is purely speculative without official confirmation, Ashley reportedly does not discuss the accusations of sexual assault against Thomas, but keeps the conversation centered on defending their relationship and denying that she was ever an escort. And considering how tense things were between Ashley and Kathryn all season, there's bound to be some serious conversation between the two of them as well. If Andy's comments about the reunion are to be believed (and he was there, so he should know), then it sounds like an explosive evening.
But that wasn't necessarily Ashley's goal going into it. She wanted to play it cool, at least when it came to fashion. She told Bravo's The Lookbook that she was originally going to wear a red dress but decided that was "a little too bold and drawing too much attention," so she switched to an all-white ensemble. It would pretty much be impossible for Ashley to go unnoticed at the reunion regardless of what she was wearing, but she figured she'd give it a shot, saying:
With my white outfit, I was thinking of kind of going under the radar. You know when brides get married they wear white because it's pure and innocent, which I've been anything but. So I thought maybe I could try to fool em'. It probably won't work.
Prior to filming, Ashley seemed all set to defend herself once she finally made it to the couch, but it looks like the situation will spiral to shocking new heights over the course of the evening. Then again, that's only to be expected. It wouldn't be a Bravo reunion show without a few intense arguments and verbal throw-downs, and the Southern Charm Season 5 reunion won't be any different.