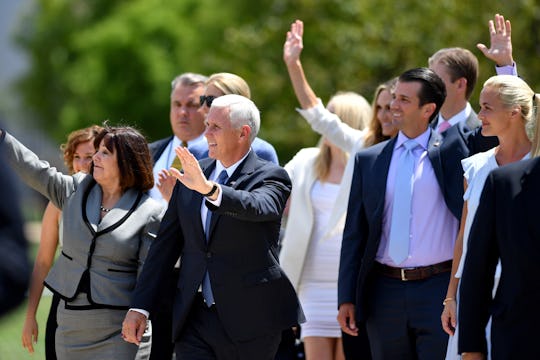 Jeff J Mitchell/Getty Images News/Getty Images
Will Audrey Pence Campaign With Mike Pence? It's Likely, Despite Their Differing Opinions
It's common for parents and children to disagree on politics. But when it comes to America's leading Republican candidates, it is rare to find a young liberal in the mix. Differing opinions didn't stop Republican Vice President nominee Mike Pence from counting on the help of his youngest daughter, Audrey. While the self described liberal has hit the road for her father in the past, will Audrey Pence campaign with Mike Pence this time around?
It's likely. The 21-year-old journalism major has not shied away from the campaign trail. Despite identifying as politically independent and socially liberal, Pence is a constant presence at her father's speeches, rallies and events.
"Probably the person I get the most respect from is my dad," she told Indiana's WTHR. "... He tells me so many times, 'I am proud of you for having your own opinions and looking into things.'"
Pence introduced his three children to politics at a young age. "This has always been a family affair for us, from the very first campaign headed out to county fairs, while Karen and I would be shaking hands at the Republican tent, the kids would be standing out in front of the tent, handing out flyers and shaking hands," Pence told WTHR.
Whether Audrey will vote for Trump in the 2016 election remains to be seen, but the Governor's daughter said her father won her vote for governor in 2012.
Pence has a lot to gain with Audrey by his side. She could bring a much-needed fresh face to the campaign: The Northeastern student is learning Arabic and International Affairs; She's a millennial with a passion for adventure; and she previously studied abroad in Turkey, covering underreported stories — a far cry from the privileged lives of the Trump clan. Audrey also worked with a co-op of the Fuller Project for Inter­na­tional Reporting, a non-profit based in Turkey.
It is inspiring to see Governor Pence putting his family before his politics. Here's hoping his relationship with his daughter will inspire the Republican party to open doors to dialogue with politicians on both sides of the aisle.