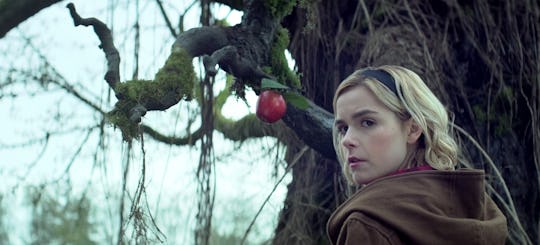 Netflix
'Sabrina' May Have Familiar Characters — But Not In The Way You Know Them
Get your flying broomsticks ready — it's reboot season and next on the docket is Sabrina [the Teenage Witch], now called The Chilling Adventures of Sabrina. Early promos show a darker, more sinister version of the '96-'03 sitcom that starred Melissa Joan Hart. Considering Sabrina has a lengthy legacy dating back to 1962's Archie's Madhouse #22 (created by George Gladir and Dan DeCarlo), a lot has changed between her time in Archie's world, and those Teenage Witch days. So will Aunts Hilda & Zelda be on The Chilling Adventures of Sabrina? Would it even be a Sabrina reboot without them in some form? It would not.
Hilda and Zelda will appear in the series, but they won't be quite as fun and zany. The original characters were middle-aged witches with their own interests. Zelda (originally played by Beth Broderick) was a professor and scientist and Hilda (originally played by Caroline Rhea), a violinist. They were bright and optimistic to juxtapose Salem's super negative energy, with a dash of cautious realism when it came to doling out advice to Sabrina. Basically, in order for this reboot to capture your heart, you'll have to forget everything you remember about Sabrina's beloved aunties. Or at least, what you perceived of the previous versions of these characters.
Netflix describes Chilling Adventures of Sabrina as a "coming-of-age story that traffics in horror, the occult and, of course, witchcraft." And while that sounds similar to the show you remember, the description adds this series is "tonally in the vein of Rosemary's Baby, and The Exorcist." The new series, starring The Lord of the Rings star Miranda Otto as by-the-book Zelda, and Wonder Woman's Lucy Davis as warm and zany Hilda, is said to showcase Zelda and Hilda guiding Sabrina as her powers develop. TV Line described one of the witchy aunts: "Proud and devout, Zelda believes there is no greater honor than serving the Dark Lord as a member of the Church of Night. She is the family's disciplinarian, fiercely protective of Sabrina and very much Cain to Hilda's Abel."
On the other side, Hilda will be a gentle wicked witch. Aunt Hilda has a nurturing and motherly nature with a just a dash of ghoulishness. For instance, don't get on her bad side because she might concoct a spite jar against you. Sounds like the perfect combo, honestly. "It's sort of like a yin and yang relationship in some ways," Otto told Nerdist while visiting the Chilling Adventures of Sabrina set. "They complement each other and it's codependent. Even though they both want their freedoms, the really rely on each other a lot."
She went on to explain the sisters' relationship with each other is about balance. "If Hilda is sunny then Zelda is stern. Zelda is the more domineering of the pair; she's the more devout where Hilda is more questioning about the Church of Night. I think they're great characters because they're so different yet they're sisters, and I think a lot of people will relate to that feeling of having siblings that you're completely different from yet there's this really strong bond there."
Though the '90's sitcom had a different feel, there may be more to explore with all characters in the dark reboot — specifically with the aunts. It's tough being half-witch-half-mortal, but maybe with Aunt Hilda and Zelda by her side, Sabrina will get it figured out. In any event, they'll cast some pretty gnarly spells. Isn't that why you watch anyway?