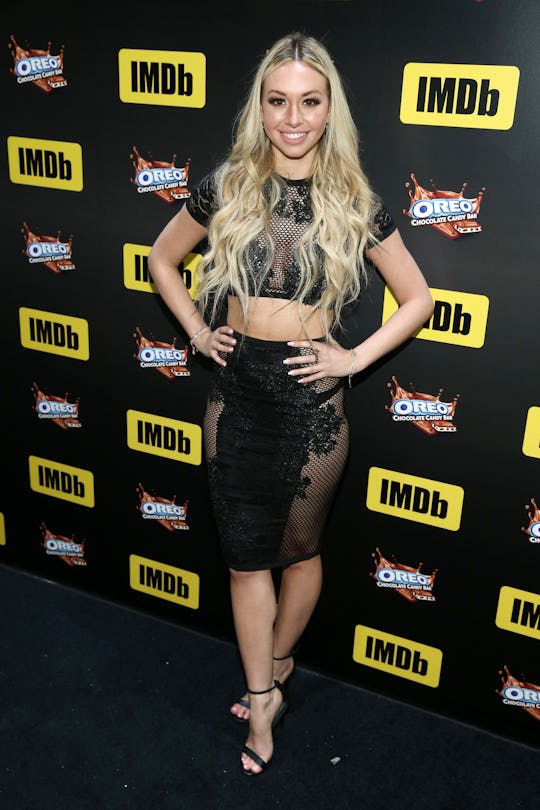 Joe Scarnici/Getty Images Entertainment/Getty Images
'Bachelor In Paradise' Will Not Air Controversial Pool Footage
After more than a week of confusion, TMZ reported on Tuesday that Warner Bros. had found no evidence to support alleged claims of misconduct between two contestants on the Bachelor in Paradise set. Now, with the news that the show will continue, fans are rightfully concerned over whether or not the Bachelor in Paradise producers will air the pool footage between the two cast members in question, DeMario Jackson and Corinne Olympios. For now, it seems the answer is a resounding "no."
Per a statement from Warner Bros., the internal investigation into the alleged incident has been completed, with the assistance of an outside law firm. The show is expected to resume filming back in Mexico, although it's still unclear if Jackson and Olympios will return. The show's production was initially shut down due to allegations of misconduct, which involved Jackson and Olympios, and claims that Olympios was allegedly too drunk to give consent to Jackson while the two were in the pool.
Now, though, Warner Bros. has reviewed tapes of the alleged incident and concluded that "the tape does not support any charge of misconduct by a cast member." However, the company also insists that it "do[es] not intend to release the videotape of the incident."
Soon after the alleged incident was brought to light, several sources came forward claiming different things. One contestant told E! News that Olympios allegedly "forced herself on three male cast members when they were unable to consent," but other sources say that wasn't the case. Olympios, for her part, released a statement regarding the incident saying, "I am a victim," and that she was trying to remember what happened that night in the pool.
Now, though, it seems that the official investigation into the alleged misconduct has completed, and the case has been closed. However, that could all change if Olympios or Jackson decide to pursue their own legal actions. While TMZ confirmed that Jackson's "lawyer met with Warner Bros. lawyers Monday, reviewed the tapes and assured him he was in the clear," it's unknown if Olympios had any representation present.
"Production on this season of Bachelor in Paradise will be resuming, and we plan to implement certain changes to the show's policies and procedures," Warner Bros.' statement read, although it's unclear what those "changes" will include.
For now, it's important to remember that issues of consent matter, and that until Olympios releases her own statement on these latest developments, nothing can be assumed.