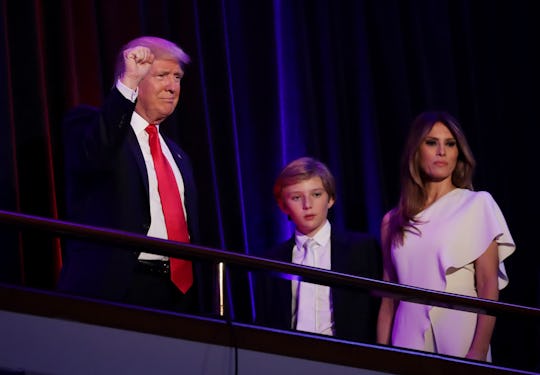 Chip Somodevilla/Getty Images News/Getty Images
Will Barron Inherit Donald Trump's Company? He's A Little Young To Tell
President-elect Donald Trump's youngest child, Barron, has come increasingly into the spotlight as his father prepares for the presidency, despite his parents' attempts to keep the 10-year-old's life private. Most of Donald's children have their future laid out pretty clearly in front of them: Tiffany is studying to go to law school, and his three eldest work with the Trump Organization. When he's of age, will Barron inherit Donald Trump's company, as well?
That will probably depend on Barron's interest in working in real estate and business. While his older siblings have a bit of a head start on him, it seems like any of Donald's interested children are welcome to join the organization. "My kids are treated very equally," he told The Wall Street Journal in 2013. "I think, and I hope, for their own sake, that they'll be able to get along… It's not a deal where there's going to be one person succeeding me."
That view was echoed by Donald's three children who already work in the family business, Donald Jr., Ivanka, and Eric. "A family business is incredible when it works, and it's a disaster when it doesn't," Donald Jr. told The Wall Street Journal. "Our biggest obstacle will be to prevent any of that sort of infighting…While [Donald Sr.] is here, there's no democracy. But with the three of us, there will be."
With the Trump Organization evenly split between the Trump children, there would likely be room to welcome a fourth in, if Barron chose to go down that road.
However, even if Barron chooses to go in a different direction than real estate or business, he would likely inherit a part of Donald's inheritance in the event of the president-elect's death. According to Forbes, Donald is currently worth an estimated $3.7 billion, which — even split up between five children — is no paltry sum. And until then, it's doubtful that Barron would ever have to go without: all of the Trump children have attended esteemed universities, and Tiffany has become known as one of the "rich kids of Instagram." Already, even at his young age, Barron enjoys an entire floor to himself in his parents' New York penthouse. It seems doubtful that he'd ever be left out of the Trump Organization (if he wanted to join it) or that his father's inheritance would skip him over.
In the meantime, however, Donald and his wife Melania have kept Barron fairly far from the spotlight, and they have yet to share many details on his interests. Barron seems to take after his father, though, so it wouldn't be too surprising to see Barron pursue a career in business — or perhaps politics.