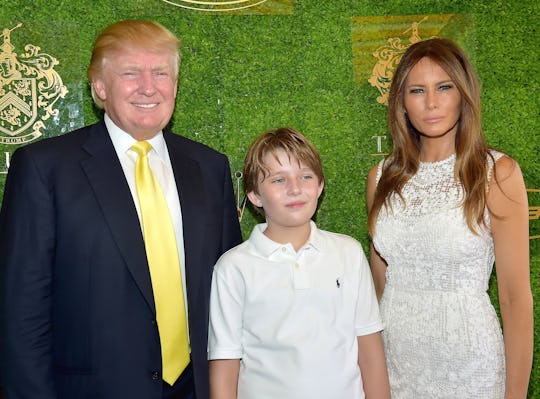 Gustavo Caballero/Getty Images Entertainment/Getty Images
Will Barron Trump Be At The Republican National Convention? He's Usually Behind the Scenes
Baron Trump, the youngest son of Donald Trump, and only child from his current marriage to Melania has been kept behind the scenes during his father's campaign. The Republican National Convention kicking off this week in Cleveland will feature every member of Trump's family, including all of his grown children, except the 10-year-old. Will Barron Trump be at the Republican National Convention? He'll likely make a quick appearance, but keep a much lower profile than his older siblings.
On Monday night, Trump will make an early appearance at the convention in Cleveland to introduce one of Monday's most highly anticipated speakers of the night, Melania Trump.
"I'd love to be there when my wife speaks, so I'll be there," Trump told Fox & Friends on Monday, "I will be there, I wanna watch."
With both his mother speaking and his father making her big introduction, although there's been no official announcement Barron will be there, it's a safe bet the tiniest Trump will make an appearance at the very least.
On Tuesday night, Trump's kids Donald Jr. and Tiffany, his daughter with second wife Marla Maples, are scheduled to speak. Eric Trump will speak on Wednesday and favored daughter Ivanka will speak Thursday night along with her father and RNC Chairman Reince Priebus.
Barron's mother, the 46-year-old Slovenian-born model, Melania, has been seen much less than other candidates' wives on the campaign trail, saying she prefers instead to stay home and take care of Barron, according to USA Today. Carl Sferrazza Anthony, an historian for the National First Ladies Library, said Melania's limited role in her husband's bid for president is likely political calculation, since her presence could be a reminder for religious conservatives of Trump's three marriages. He also said Ivanka acts as the perfect surrogate for Melania's role as spouse on the trail.
Eyebrows were raised just two days ago when Melania was noticeably absent from her husband's announcement of his vice presidential running mate, Mike Pence. Barron was also not in attendance.
"She's a reminder to social conservatives of Trump's two divorces; unlike many other political spouses, she didn't know she was marrying into politics; and her husband has Ivanka, whose political role Anthony describes as the most expansive played by a daughter in more than 40 years, since Julie Nixon pleaded her father Richard's case during the Watergate scandal," Anthony said, according to USA Today.
One could also assume that. if Melania is being intentionally kept from center stage, the same logic could be applied to their son, Barron. But Tiffany, Trump's child with Maples is certainly playing a high profile role in helping define her dad.
Most likely Barron will be kept away from the bright lights because he's still so young. There are plenty of years for the youngest Trump man to soak up the spotlight.