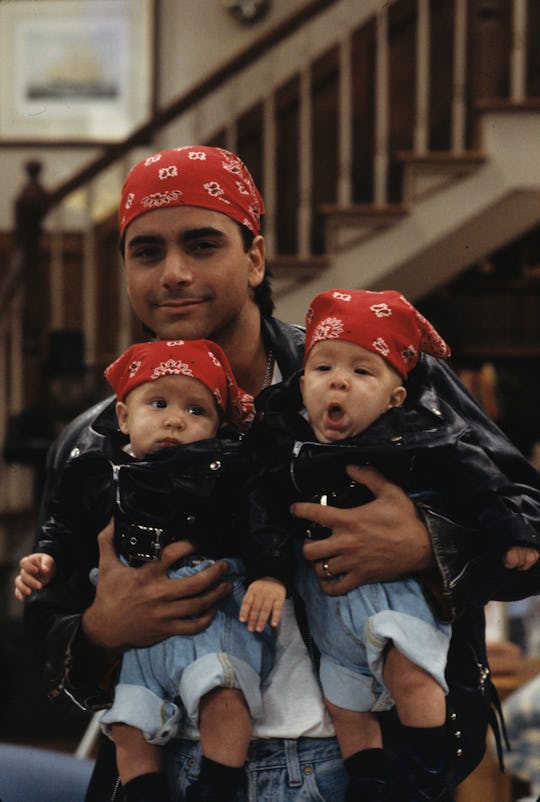 ABC Photo Archives/Disney ABC Television Group/Getty Images
Will Becky & Jesse Have A Baby On 'Fuller House'? Anything Is Possible
When Becky and Jesse had the twins on Full House, everything changed. And many are wondering if Becky and Jesse will have another baby on the Netflix series Fuller House. The twins are all grown up now, having been in college for six years with future plans involve opening a taco truck. Jesse has always been a family man, as evident by the fact that he moved in with Danny all those years ago to take care of the kids shows. And Becky clealry loves the little ones. In Fuller House, she talks about wanting another kid and fawns over D.J.'s infant son Tommy. But Jesse isn't immune to the little boy's cuteness, buying him an Elvis onesie, just because.
To add to the motivation, the two still seem to have a pretty active sex life. From the very beginning of the episode Rebecca makes a joke about being tired and Jesse hints that they were up late fooling around. He also praises her butt, which is always a good sign. Their spark is totally still lit. It's been 29 years since we last saw the couple, and it's hard to believe that they would want to start all over again. It doesn't look like Nicky and Alex are going to be able to support themselves anytime soon. They're total slackers.
But having sacrificed a lot to raise these twins (six years of tuition can't be cheap), one could speculate that Jesse and Becky won't be having babies any time soon. According to the show, Rebecca and Danny have just landed a brand new, nationally syndicated talk show. That's a big deal. Who wants to take a leave from work just when things are getting interesting?
There's a lot of action happening on Fuller House, but it doesn't look like there will be any more babies for Jesse and Becky. But never say never.