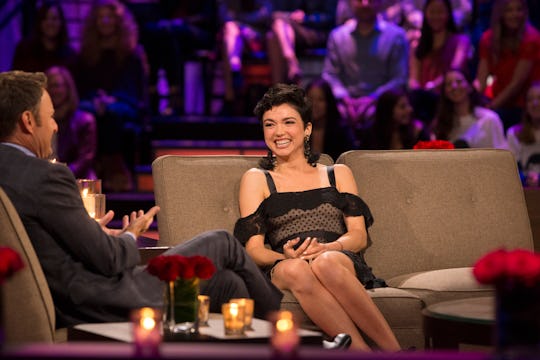 Paul Hebert/ABC
Bekah May Be Heading To 'Bachelor In Paradise,' So Get Ready
If you know anything about Bachelor Nation, you know that Bachelor in Paradise is the most entertaining offshoot of the whole series. And you'll also know that Bekah M. was one of the most entertaining women on Arie's season of the show. So will Bekah be on Bachelor in Paradise? Chris Harrison teased her possible involvement on the Women Tell All special on Sunday night and I could not be more excited. Bekah deserves more choice and more excitement than what she got on The Bachelor.
The Women Tell All special is always revealing, as this is the time when all the women on the show break down what happened over the course of the season, explain and clarify some things, and confront their enemies. It's also a time when Chris Harrison occasionally likes to tease which (if any) of the women will be back for more Bachelor shows, as he did when talking to Bekah. Harrison hinted that he hoped Bekah would join the cast for two weeks in the summer as part of Bachelor in Paradise and I gotta say I am very much in favor of this development. And judging by the reaction I'm seeing on Twitter, I am not the only one.
After taking Bekah up to the hot seat to ask questions about her time on the show, Harrison obviously had to ask her about that pesky missing persons report. After the show wrapped up, Bekah explained that she needed some time to unwind so she went with some friends to a marijuana farm in California. And though she told her mom she'd check in, she didn't have service in the area so wasn't able to. After not hearing from her daughter for a week, Bekah's mom (like nervous mothers everywhere) filed a missing person's report, which then found its way to the internet.
After asking Bekah to explain the situation, Harrison decided to give Bekah's mom a call, you know, just to make sure she knew where Bekah was at that moment. The most exciting part of the conversation was when Harrison said that Bekah's mom would have to prepare herself to say goodbye to Bekah for two weeks this summer while Bekah was on the resort in Mexico as a part of Bachelor in Paradise. Maybe Bekah will be allowed to send her mom post-cards or something from the beach as a part of the cast.
Bekah's reaction didn't make it clear whether or not she'd definitely decided on being a part of the Bachelor in Paradise cast. She joked under her breath that going on Paradise would be her mother's worst nightmare which, you know, fair. I'm not going to count my chickens before they've hatched and I'm not going to count my Bachelor in Paradise contestants before they've started filming, but Bekah is an absolutely perfect choice for the show. She's funny, she doesn't take everything too seriously, and she's bound to have a huge collection of vintage-inspired, high-waisted bikinis and sexy one-pieces.
As far as who could be joining Bekah for a summer of love and margaritas, rumor has it that this year's Bachelor in Paradise cast could be international, judging by the success of the international Bachelor Winter Games. For some reason I think this is even more perfect for Bekah. I can just see her having a passionate affair with a debonair French man with a passion for French cheese, French wine, and French kissing. I guess we'll just have to wait for this summer to know for sure.
Check out Romper's new video series, Romper's Doula Diaries:
Watch full episodes of Romper's Doula Diaries on Facebook Watch.