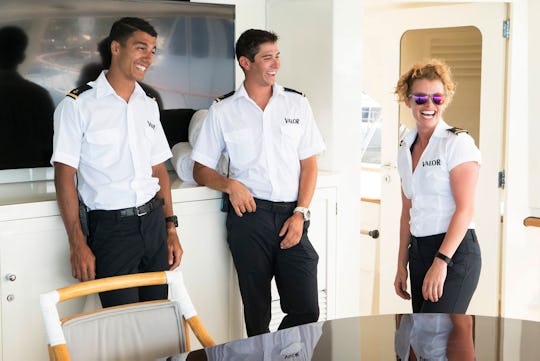 Virginia Sherwood/Bravo
The Future Of Bravo's 'Below Deck' Remains Uncertain
By now, Bravo has a fabulous and glamorous reality show for almost everyone, including Below Deck, which follows a group of yacht employees and all of their drama and relationships while out on the water. But now that the show's fifth season is coming to an end, will Below Deck return for Season 6? Judging by the rating numbers and viewership, it's safe to say that fans will get yet another installment of the reality series, but there hasn't been an official announcement just yet.
This is to be expected, though, as in the past, the announcement of a Below Deck renewal after each season has come a couple of months following the season finale, as opposed to directly after. The filming of Season 5 of Below Deck wasn't announced until February 2017, which was a good two months or so after the Season 4 finale had aired, so it's totally normal to not have an official announcement for Season 6 just yet. What we do know is that if the fans' love of the series is any indication of its staying power, then a Season 6 renewal is almost certain for the Bravo show.
As recently as October, Below Deck ranked high among some other strong cable network TV shows. To help put it in perspective, on a list of the Top 25 shows for Oct. 10, Below Deck ranked at number five, with American Horror Story holding the first place spot. Although there doesn't seem to be actual viewership numbers yet for all of Below Deck Season 5, the numbers for the show's fourth season say a lot about how much fans have enjoyed the series so far.
For Season 4 Episode 5, for example, Below Deck came in at 1.55 million viewers, which was a steady incline from the show's first season. For Tuesday, Nov. 28, Below Deck came in at number five yet again, ranked above the NBA regular season game and House Hunters, so by that alone, you have to expect that there will be another season in 2018. Barring any yacht accidents that could postpone a Season 6 premiere date in September 2018, much like the accident that saw the boat sink during Season 5 filming, there's no reason to suggest that the show won't continue.
I don't know how seriously I take all of the lavish guests and the heightened drama between some of the stewards each season, but as far as actually running the boat each time around, Captain Lee Rosbach seems to be pretty legit, along with his crew, so that's a bonus in itself. And according to him, what you see is what you get with Below Deck, when asked by Fox News how much of the show is actually real.
"All of it. I would like to say that somebody could make this stuff up, but that wouldn't be true," he revealed. "The cameras start rolling in the morning and they don't stop until the last person goes down for the night. And whatever happens, happens. And we get it on film."
When Below Deck premiered in July 2013, it was like the guilty pleasure you didn't even know you needed, and who would have ever thought that the crew of a chartered yacht could drum up enough drama and excitement to fill an entire season? If Season 5 was going to be its last, there would have no doubt been an announcement to warn fans the end was near. Somehow, it's become one of the many Bravo staples, and with five seasons under its belt, you have to assume that there will be a Below Deck Season 6 announcement in the next couple of months.
Check out Romper's new video series, Romper's Doula Diaries:
Watch full episodes of Romper's Doula Diaries on Facebook Watch.