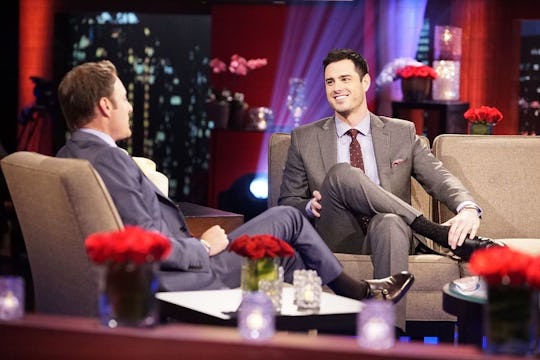 Kelsey McNeal/ABC
Will Ben Higgins Get Married On 'The Bachelor: After The Final Rose'? This Could Be The Most Dramatic Episode Ever
Only minutes into the Bachelor finale, Chris Harrison gave us the biggest tease of all time. Chris suggested that Ben Higgins might get married on The Bachelor: After the Final Rose. This is not a drill, this is an actual thing that Chris is suggesting could happen by the end of the three hour finale. Apparently, Chris and The Bachelor producers are really running with the comment Ben made on After the Final Rose that he would marry his fiancée right away if he could, because the entire gang is present at After the Final Rose ready for the possible nuptials.
The live after show featured every possible player needed for an on-the-spot wedding. Ben's family is there. Both JoJo and Lauren's families were there. Neil Lane was there with wedding bands — because only the best for The Bachelor. Even Ben's pastor was brought in, just in case this wedding actually goes down.
Besides the fact that I'm not even close to being emotionally prepared for Ben to get married on the finale, I think it's pretty shady that both of the women's families are present. Is the losing family supposed to just sit there and watch someone else marry the man their daughter was in love with? Let's hope it doesn't come to that, since this plan doesn't seem completely ironed out.
UPDATE: Ben and Lauren did not get married on The Bachelor finale. Despite Chris Harrison prepping the studio for an actual wedding, Ben and Lauren decided they'd like to save that moment for their friends and family.