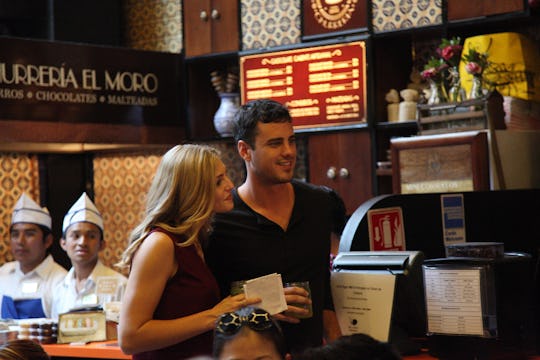 ABC/Eniac Martinez
Will Ben Take Back Olivia's Rose? After Last Week's Episode, It Wouldn't Be Surprising
One vilified contestant on The Bachelor may be packing her bags in episode six. Will Ben take back Olivia's rose? A teaser from NBC suggests that Ben may not be feeling the love for Olivia anymore.
The video from Monday's episode promises "it's the Bachelor you've been waiting for"... and it certainly looks as though Ben's future with Olivia is far from becoming a reality. The episode promises to give fans a better understanding of where Ben stands with Olivia — although, if the other contestants have any influence over the Bachelor's decision, Olivia won't be holding a rose much longer.
In episode 5, Ben and the contestants went on a romantic trip to Mexico City. Ben took a hot air balloon ride with Amanda, and the contestants put their cooking and Spanish-speaking skills to the test, according to ABC. Though she nailed the culinary competition, it was Jubilee who had the toughest day. During a heart-to-heart with Ben, Jubilee discussed her new tendency to withdraw and said she wasn't trying to seem closed off. After asking Jubilee if she thought they had a future together, Ben revealed that he didn't foresee a sustainable romance between them. Despite Jubilee's teary admission that she "would have loved him unconditionally," she got into a taxi and went home from Mexico City.
Olivia's week started off well: she successfully stole Ben for more one-on-one time, according to ABC. Even though the other contestants weren't pleased, Olivia got the rose after the group date. But things careened off course for Olivia at the rose ceremony cocktail party. Amanda spoke with Lauren B. about the challenges of ensuring her kids were cared for while she was on The Bachelor. It was then that an insensitive comment from Olivia made all of the contestants angry, according to Entertainment Tonight. "I feel like that's an episode of Teen Mom that I watch," she said, to everyone's disapproval.
Though Olivia later apologized, she'd already shifted the energy in the room against her. Many of the women proceeded to tell Ben exactly how they felt about Olivia, leading Ben to question what he knew about the woman who seemed to be winning his heart. "I seem to know one Olivia but the girls seem to know a different Olivia," Ben told the cameras. "It's nerve-wracking to think that I might be falling for somebody that could turn out to be somebody that I didn't expect."
Since the beginning of The Bachelor, Olivia hasn't kept her desire for a fairytale romance a secret. Olivia even shared what she likes about Ben in an ABC video earlier this month. "Ben gives me everything I need," she said. "Ben gives me sweet, he gives me passion, and he gives me honesty and communication." Still, with this week's teaser, fans are left wondering whether Olivia's love story will actually have a happy ending.