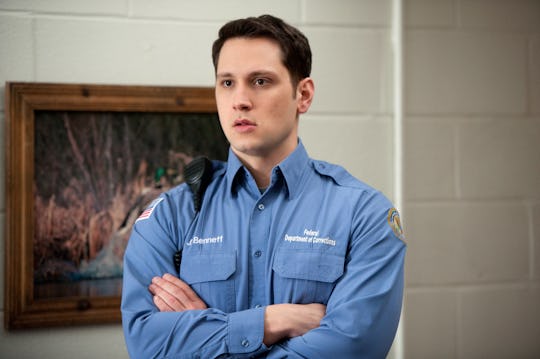 JoJo Whilden/Netflix
Will Bennett Return To 'Orange Is The New Black' Season 4? Here's What We Know So Far
C.O. John Bennett's departure midway through Orange Is the New Black's third season was gut-wrenchingly disappointing, even though we knew actor Matt McGorry was leaving Netflix for the greener (relatively) pastures of Shondaland. He was forced to skip out on OITNB when he landed a series regular role on How to Get Away with Murder, which just so happened to be a hugely successful network primetime hit that now has a regular shooting schedule. But for Orange, it means that Daya was left high and dry without a guardian for her daughter. So will Bennett return to OITNB Season 4?
Considering Daya and her mother are both in prison, and her mother's boyfriend Caesar (who was caring for the rest of the underaged Diaz children) just got arrested, Daya has no one left on the outside to be her daughter's guardian. She gave birth in the final few minutes of the Season 3 finale, which is also where we see Caesar get arrested. So this would be a great time for Bennett to swoop in and save the day. The only other potential guardian we saw in the works during Season 3 was a plotline in which Pornstache's mom (still believing Daya's daughter was her grandchild) was offering to adopt. But Daya, believing in her relationship with Bennett, bails on the idea.
Bennett, for his part, seems to have simply gotten overwhelmed by Daya's complicated family situation. He meets Caesar, gets super freaked out by the prospect of becoming a part of this family, and disappears without a trace. It's pretty much the world's cruelest ghosting ever. But Matt McGorry offered some insight as to why it makes sense in an interview with Vulture, especially as it pertained to the flashback scene of him at war, in which he loses his leg. He said:
"The flashback is analogous to what ends up actually happening with Bennett and Daya. Here he is, he's in battle, he's talking a big game, but when it comes down to it, the other lower-ranked guy jumps on the grenade as Bennett goes and runs. I think it's sort of who Bennett is: He wants to be the hero so bad, and he tries but falls short. It's pretty tragic, but there is some part of me that thinks Bennett believes he was doing the better thing by leaving. It allows Pornstache's mother to step in, it allows other things to shift. I mean, if you think of it, that relationship has been a ticking time bomb since the beginning.
...That's part of the effectiveness of the storytelling. It baits you into that relationship. It's so romantic, but you forget [that it's doomed to fail]. But I think there is something very real about how it turns out. The nature of a relationship between a guard and an inmate, it's not a problem until it's a problem."
And if you think that seems bleak, you should hear Dascha Polanco (who plays Daya)'s take on the matter: "Bennett coming back? Who knows! When a man leaves you, can we ever tell if they're coming back or not? We never know."
Our only remotely hopeful hints are that A) Selenis Leyva, who plays Gloria Mendoza, teased in an interview with Huffington Post that "this is the season of the rise of the Latinas and there's a lot of conflict within that," which may mean more story time to devote to Daya and Bennett, and B) Matt McGorry confirmed that Bennett is not dead, as far as he knows. Fans have held out hope for much less.