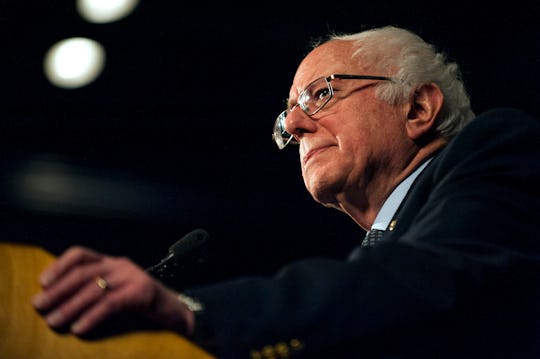 Stephen Maturen/Getty Images News/Getty Images
Will Bernie Sanders Drop Out After Super Tuesday? It's Not Likely, But He's Facing Serious Competition
Bad news for Berners (and no, I don't mean the Burning Man crowd): Vermont Sen. Bernie Sanders' shot at the presidency is likely to take a heavy hit on Super Tuesday, as current projections are predicting serious success for former Secretary of State Hillary Clinton. Voters in 12 states and one territory will head to polls and caucuses Tuesday, which makes it the biggest voting day of the year for the United States — and Sanders only seems favored in his native Vermont and Massachusetts. With a rather stark-looking start to March, supporters are wondering: Will Bernie Sanders drop out after Super Tuesday?
If Sanders stays true to his word, he'll continue on the campaign trail even if Super Tuesday goes badly for him. Recently, when asked whether he would continue on in his campaign regardless of Super Tuesday results, Sanders remained positive. "We started this campaign at 3 percent in the polls, 67 points behind Clinton. At the end of tomorrow, I think 15 states will have spoken," Sanders said. "Last I heard, we have a lot more than 15 states in the United States of America. I think it is more than appropriate to give all of those states and the people in them a chance to vote for the candidate of their choice."
There are still signs that Sanders could be successful, of course. According to The Guardian, Sanders has broken records with the number of individual contributions received, and in January, donations added $20 million to the $33.6 million raised in the last quarter of 2015. The funds could carry his campaign even in the wake of disappointing Super Tuesday numbers.
In a January CNN/ORC poll, Sanders also looked better positioned than Clinton to face off against any of the GOP candidates. He has a lead of 57 percent to Cruz's 40 percent, 55 percent to Trump's 43 percent, and 53 percent to Rubio's 45 percent. Clinton, on the other hand, only holds the upper hand against Trump, with 55 percent to his 44 percent. Once she faces off against Cruz or Rubio in the polls, she falls one to three percentage points behind the Republicans.
Still, the March 1 elections look daunting for the Sanders campaign. Sanders' wife, Jane, told The Guardian,
It's a rough map for us. I wish 11 states weren't up tomorrow. I wish there were 48 hours in the day. The national media didn't really start covering Bernie that much until the beginning of 2016, so they are not as familiar with him in the south. Time has been against us. We have had two months for people to be familiar with Bernie's message.
The outcome of the Super Tuesday elections will clarify Sanders' and Clinton's paths for the rest of their campaigns before convention, according to Vox, which spoke to University of Georgia political scientist Josh Putnam. If Sanders loses by even a 52-48 margin to Clinton, Putnam said Sanders will still be doing well. "That's a huge win for Sanders," he said. "He's losing, yes, but it's a win relative to expectations ... and this is an area of the South where Clinton was expected to do very well. That would project a much longer and pitched battle between them for the rest of the primary calendar."
Yet if Clinton manages to clinch 60 percent of the popular vote on Super Tuesday — as polls have suggested she might — Putnam said Sanders' road to candidacy will get much tougher. "Folks in those positions just don't lose very often," Putnam told Vox.
This will undeniably be a nerve-wracking night for Sanders, but he seems to be in this for the long run — no matter what Super Tuesday may throw his way.