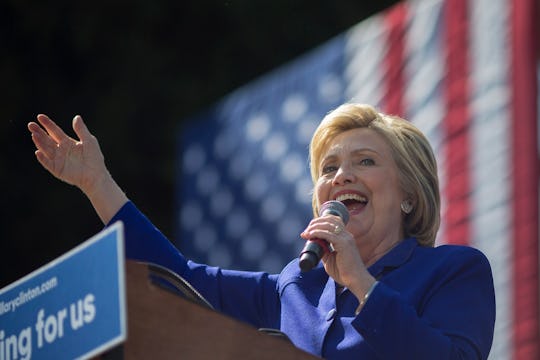 David McNew/Getty Images News/Getty Images
Will Bernie Sanders Drop Out? Hillary Clinton Is On Her Way To The Nomination
Polls, delegate numbers, and votes point to Hillary Clinton as the Democratic presidential candidate and she is certainly on her way to securing the nomination. But, there's one problem: Bernie Sanders hasn't conceded yet. So, will Bernie Sanders drop out of the race? Will the Democratic duo use their common ground to defeat Republican presidential candidate Donald Trump?
The Associated Press reported on Monday night that Clinton has locked down the number of delegates needed to become the Democratic Party's presumptive nominee for president. After Clinton formally accepts her party's nomination in July at the Democratic National Convention in Philadelphia, the former secretary of state will be the first woman to appear on the presidential ballot for a major political party in the United States.
Although an AP delegate count points Clinton towards clinching the Democratic nomination, Sanders isn't ready to drop his bid just yet. The Vermont senator plans on powering through these last few days of campaigning before anything is set in stone.
"Let me just talk to you after the primary here in California, where we hope to win," Sanders told reporters at a news conference, according to CNN. "Let's assess where we are after tomorrow before we make statements based on speculation."
In an interview with CNN's Dan Merica in Compton, California on Monday, Clinton hinted that she hopes that if and when Sanders drops out of the race he would join her to defeat Trump, referring to when she conceded in 2008 and endorsed Barack Obama.
"I certainly am going be reaching out to Senator Sanders and hope he will join me in that because we have got to be unified going into the convention and coming out of the convention to take on Donald Trump," Clinton said in the CNN interview with Dan Merica.
It's very clear that Sanders won't go down without a fight, but he has previously said that if he loses the Democratic nomination, he will help Clinton in the fight against Republicans, but Clinton will have to meet him on some demands that his supporters care passionately about.
"I think Secretary Clinton is going to have to explain to millions of young people and a lot of other people that climate change is a real crisis and incrementalism is just not going to solve it," Sanders said in a town hall meeting hosted by MSNBC in April on his conditions to support Clinton.
President Obama has yet to make an endorsement while Sanders and Clinton continue to battle it out. But, the New York Times reported on Monday that Obama may break his silence as early as this week with a formal endorsement for Clinton. It's possible that this kind of comment from the President himself may help Sanders with his decision and acceptance to concede as well as a push towards officially unifying with Clinton.