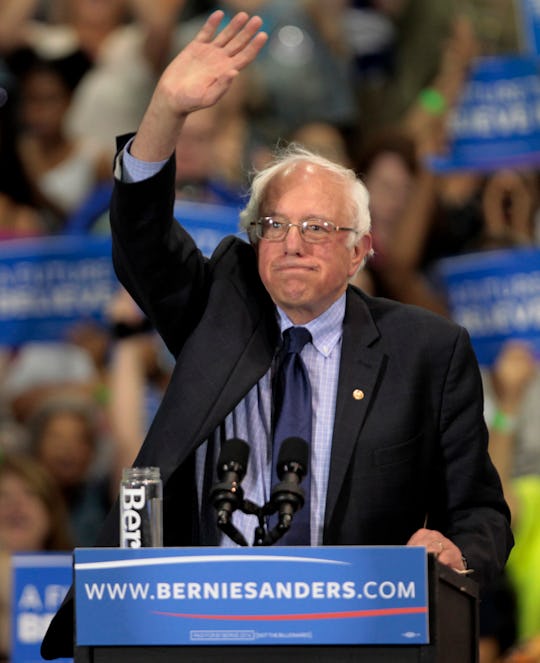 John Sommers II/Getty Images News/Getty Images
Will Bernie Sanders Drop Out Of The Democratic Race? He May Have Just Dropped A Big Clue
Barring an indictment or some unforeseen disaster, Bernie Sanders will most likely not be the Democratic Party's 2016 presidential candidate. The Vermont senator knows this: Just this week, Sanders dropped a big hint that it was the end of the road for his presidential campaign, whether he intended to or not. In an interview with The New York Times on Wednesday, Sanders discussed plans to lay off "hundreds" of campaign staffers across the country. He hopes to refocus his remaining campaign efforts on winning the California primary. This latest move suggests that Bernie Sanders may indeed drop out of the Democratic primary election.
In the interview, Sanders tried to explain the staffing cut backs to The Times, saying, "We want to win as many delegates as we can, so we do not need workers now in states around the country." While Sanders didn't give an exact number of staffers being let go, he indicated it would be a large group. "It will be hundreds of staff members," he told The Times. "We have had a very large staff, which was designed to deal with 50 states in this country; 40 of the states are now behind us. So we have had a great staff, great people."
At this point in the race, Hillary Clinton is the presumptive Democratic nominee but, despite speculation, Sen. Sanders has often said he will remain in the race until the July convention. However, the Vermont senator seemed very aware of his campaign's future prospects in his concession statement Tuesday night, following the Northeast primaries. "The people in every state in this country should have the right to determine who they want as president and what the agenda of the Democratic Party should be," Sanders asserted. He proceeded to use the latter question as a cornerstone of his campaign:
That is why this campaign is going to the Democratic National Convention in Philadelphia with as many delegates as possible to fight for a progressive party platform that calls for a $15 an hour minimum wage, an end to our disastrous trade policies, a Medicare-for-all health care system, breaking up Wall Street financial institutions, ending fracking in our country, making public colleges and universities tuition-free and passing a carbon tax so we can effectively address the planetary crisis of climate change.
Many see this concession speech as his campaign's return to its original purpose: to force the Democratic Party to move left on issues like the economy, climate change, and social welfare. He began his campaign as a protest candidate hoping that, while Clinton would become the nominee, he could shift the debate and the public's awareness of social issues. This new campaign strategy is not meant to help instigate the world's greatest political comeback. Instead, Sanders' plan is designed to maximize his political influence at the Democratic National Convention this summer.
Speaking to The Times about the California primary, Sanders said, "Symbolically and in terms of delegates, if we can win the largest state in this country, that will send a read message to the American people and to the delegates that this is a campaign that is moving in the direction it should."
"We don't need people right now in Connecticut. That election is over," he continued. "We don't need them in Maryland. So what we are going to do is allocate our resources to the 14 contests that remain, and that means that we are going to be cutting back on staff."
Sanders emphasized that he would be happy to hire the benched staffers back if his political standing improves in the coming weeks. "If we win this [the California primary]," the senator told the outlet, "every one of those people who have helped us get this far, they will be rehired."
Sanders knows that winning California won't steal him the nomination, but the win would put his name in headlines on the final day of the primary on top of giving him a large new set of Sanders-friendly delegates who may come in handy during the convention. Democrats who may like his policies but are worried that continuing Sanders' campaign will divide the party and hurt the eventual nominee may be encouraged by his comments and staffing shake-ups.