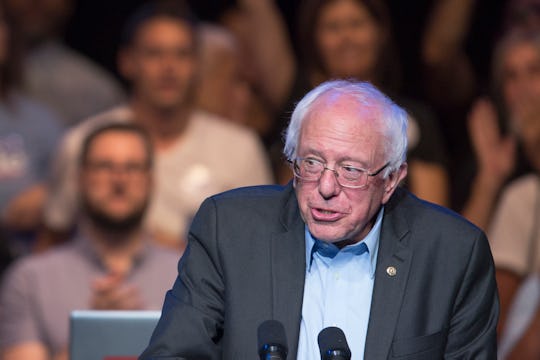 David McNew/Getty Images
Will Bernie Sanders Host 'SNL'? If So, That's One Night Of TV No One Should Miss
With the presidential primaries just a few months away and the campaign efforts of most candidates reaching a fever pitch, the country seems to be all politics, all the time. We want to know what our potential presidents think about healthcare and gun control; we want to know if they are pro-life or pro-choice; and we want to know where they stand on gender equality and income equality and racial equality and... well, equality. But here's another burning question I'm sure we all share: Will Bernie Sanders appear on SNL?
Oh wait, what? You haven't wondered that at all? Well hold just a sec and hear me out on this one: Bernie Sanders, 74-year-old Democratic Presidential candidate and political powerhouse, has been killing it lately. Don't get me wrong, Bernie is still trailing Hillary by 22 points in the polls but he's saying the right things, doing the right things, and tackling hard subjects. (Sanders reminds me of Daenerys: he doesn't just want to stop the wheel, he's wants "to break the wheel" — and he may have enough experience to do just that!) But regardless of how well he presents himself at the podium, in debates or along the campaign trail, we all know there is more to politics than what you say. Presentation is half the game and, like it or not, in order to be considered as a serious candidate — in today's society — you need show you don't take yourself too seriously. 
These days in politics, you need to make appearances on shows like the Tonight Show with Jimmy Fallon, The Late Show with Stephen Colbert, and SNL — and be entertaining while you're at it. (BTW, did you see Larry David's amazing portrayal Sanders? If not, stop what you're doing now and watch it right here.)
But back to our original question: Will Bernie Sanders appear on SNL? Truth be told, no one yet knows. Trump is slated to host tonight, Nov. 7, and Hillary made an SNL appearance herself just last month. But so far, there's no word whether or not The Bern will take the stage.
This author however would love to see it. Why? The man is smart, the man is opinionated, and the man has moves!
He also reminds me of my Pop-Pop, so there's that. And with grandiose mannerisms and a voice that reminds me of Christopher Walken, this is one appearance I hope we will see.
Images: David McNew/Getty Images; Giphy (2)