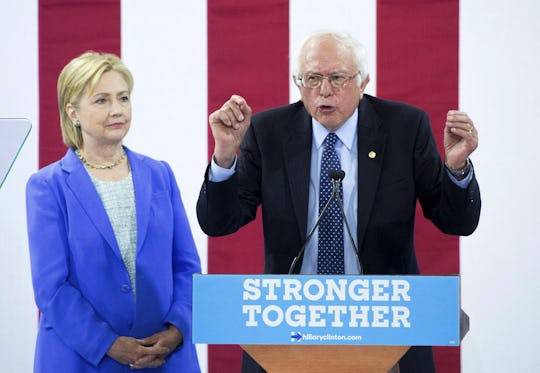 AFP/AFP/Getty Images
Will Bernie Sanders Speak At The Democratic National Convention? It's An Exciting Lineup
With the excitement of the Republican National Convention dying down, things are starting to ramp up for the Democratic National Convention in July. Philadelphia, Pennsylvania, will soon be jam-packed with Democratic delegates, speakers, protesters, fans, and party leaders. The convention has recently released its schedule of events, and it's a very exciting lineup. But, will Bernie Sanders speak at the Democratic National Convention? He's given his support to presumptive nominee Hillary Clinton.
According to CNN, the impressive list of speakers includes President Barack Obama, Vice President Joe Biden, first lady Michelle Obama, former President Bill Clinton, Chelsea Clinton, and none other than Vermont Sen. Bernie Sanders. Sanders will be giving a headlining speech during the convention, meaning that he'll take the stage during primetime on the first day of the event to show his support for Clinton. According to Politico, other speakers scheduled to speak that Monday include Michelle Obama and immigration activist Astrid Silva. The theme of the night is "United Together," so Sanders will most likely be speaking not only about immigration reform and uniting families, but also uniting the party behind one candidate.
Giving Sanders an important role during the convention is a good move on the part of the Clinton campaign. After a tough loss, with many disappointed supporters, it's important to bring Sanders into the fold of the party and ensure that his voters will come out for Clinton in November. Sanders only recently endorsed Clinton, but there's still a lot of work to be done to appeal to more left-leaning voters. Sanders' will play a major role in the effort to broaden the party's base and make its message more liberal.
According to the Democratic National Convention Committee, the day Sanders will speak focuses "on putting the future of American families front and center and how we're stronger together when we build an economy that works for everyone, not just those at the top and when everyone has a chance to live up to their God-given potential. DREAMer Astrid Silva will share her story and her fight to keep families together."
The night after Sanders' big appearance, Bill Clinton will speak about his wife's accomplishments, particularly her work for children and families, according to CNN. On Wednesday night, Obama will speak about Clinton's extensive government experience. Given her new campaign slogan, "Stronger Together," it's important that the Democratic party shows a united front against the fractured mass of the GOP.