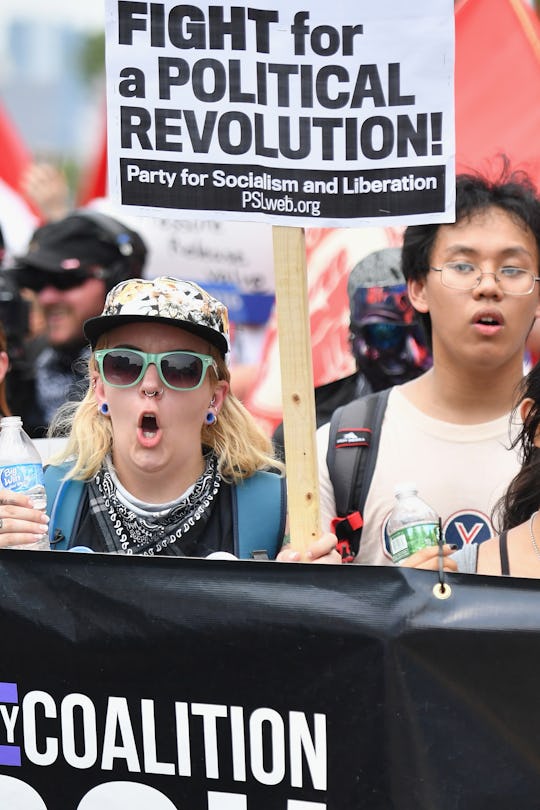 Jeff J Mitchell/Getty Images News/Getty Images
Will Bernie Sanders' Supporters Stage A Protest Vote? The DNC Is Sure To Be Wild
Those expecting the Democratic National Convention to be a lovefest were in for a rude awakening on Monday. A vocal contingent of Bernie Sanders supporters was not happy about Hillary Clinton becoming the party's nominee, and those protestors made their voices heard with boos and chants of "Bernie." But will Bernie Sanders supporters stage a protest vote? If their candidate has anything to say about it, they will not, but the convention is still sure to be a wild ride.
The Republican National Convention experienced its own discord last week in Cleveland. First, the Never Trump contingent tried to force a vote to change the rules on delegates having to automatically support nominee Donald Trump. Then, just when it seemed everyone might be falling into line, Texas Sen. Ted Cruz refused to endorse Trump during his speech, telling Republicans to "vote your conscience," eliciting boos and threats from the crowd. Though Trump became the nominee anyway, and even left the convention with a boost in popularity, progressive protestors took notice.
On Monday, thousands of Bernie supporters gathered outside the convention center in Philadelphia to protest, particularly angered by an email leak over the weekend showing that DNC officials appeared to favor Clinton throughout the primary. Then, those who made it inside at the start of the convention began to boo each time Clinton's name was mentioned.
These boos and chants often came at inappropriate, tone-deaf times, such as during Representative Elijah Cumming's speech about his sharecropper parents, which was nearly drowned out by Sanders supporters shouting about their opposition to the Trans-Pacific Partnership.
But those Sanders supporters hoping to stage some sort of protest vote got a message early on that their own candidate of choice didn't want them to do so. Sanders' supporters at the convention received a text from Sanders' account, saying,
I ask you as a personal courtesy to me to not engage in any kind of protest on the floor. It's of utmost importance you explain this to your delegations — Bernie.
He then sent a follow-up email reiterating the sentiments. It's hard to imagine mobilizing a protest vote for a man who doesn't want it. Now, it seems more likely that Sanders supporters may focus on challenging Clinton's choice of running mate, since many hoping for a progressive choice like Elizabeth Warren were upset by the selection of former Virginia Gov. Tim Kaine. As of now, no formal motion has materialized.
The DNC is turning out to be more unpredictable than anyone anticipated, but here's hoping that ultimately, people are able to unite, respect one another, and work together to keep the United States from turning into a place where hatred reigns.