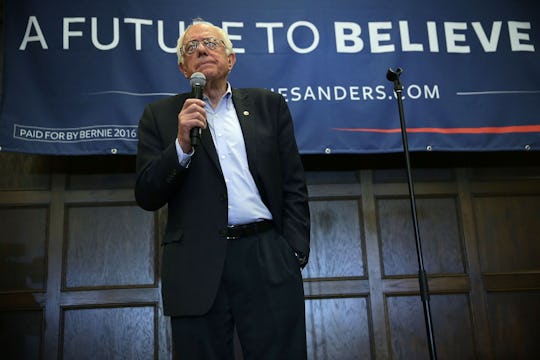 Alex Wong/Getty Images News
Will Bernie Sanders Win Iowa & Get The Democratic Nomination? The Win Would Be Big
Lots of young people have been feeling the Bern recently. And, polls throughout Monday showed that Vermont Sen. Bernie Sanders has been getting a much-needed boost just before the Iowa caucuses Monday night. A Quinnipiac poll put Sanders in a narrow lead against Clinton in Iowa mere hours before the first of many caucuses, so will Bernie Sanders win Iowa and the nomination for the Democratic Party? Things are looking good for him in both Iowa and New Hampshire, so he's starting out in great shape.
The poll was revealed earlier Monday and has Sanders at a 49 percent to 46 percent lead against Clinton. Needless to say, neither candidate should declare victory just yet. Still, Sanders was looking great early Monday. Though 15 percent of Clinton supporters and 12 percent of Sanders supporters said they could change their minds at the last minute before the caucus, Sanders was still coming out ahead. Why? Because 50 percent of O'Malley supporters said their second choice is Sanders.
That amount is a big deal, because O'Malley likely won't meet the 15 percent support threshold required in Iowa precincts, meaning his voters will have to choose either Clinton or O'Malley. The remaining 50 percent of O'Malley supporters were either undecided or supported Clinton. Though the numbers are close, the small percentages Sanders has over Clinton could be a big deal in the end.
Sanders has been leading in issues like the economy and jobs, health care, and climate change.
As of Sunday, New Hampshire Democrats appeared to be all in for Sanders, too. Though the Granite State gets to decide next Tuesday, CBS News reported that a Monmouth University poll found Bernie winning among first-time New Hampshire voters in every category. Not only does Bernie also lead New Hampshire Democrats 53 percent compared to 39 percent for Clinton, but surveys found she has lost her lead among women in the state (50 percent to 44 percent) and older voters (also 50 to 44 percent).
Sanders was also still winning among men, younger voters, and independents — and the last group is especially important for the New Hampshire primaries. Though Independent Iowans must register to participate in a Democratic or Republican caucus, unaffiliated voters in New Hampshire can cast a ballot in next Tuesday's Democratic primaries without registering with a specific party. This difference is important because Independents in Iowa overwhelmingly prefer Sanders — he's leading by a 34 percentage point margin, according to New Hampshire Public Radio.
Because donors look at these two states closely to decide who to support financially, and the Sanders camp heavily depends on the Average Joe to keep the train going (he surpassed two million campaign contributions in December), pulling out two consecutive wins could be the momentum he needs to clinch the presidential nomination. He's getting all the support in all the right places, but the caucuses will show whether people think he's a candidate who could actually get things done in office with his radical style of politics.