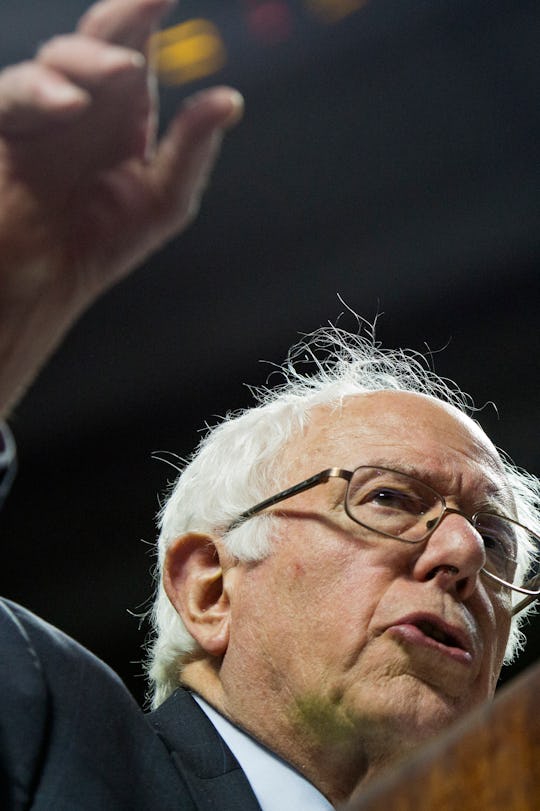 DOMINICK REUTER/AFP/Getty Images
Will Bernie Sanders Win New York? He Could Score An Unconventional Victory
A few months ago, the race between former New York Sen. Hillary Clinton and Vermont Sen. Bernie Sanders seemed like an obvious call in favor of Clinton. But now, with Sanders having won the previous seven primaries, many are asking what might become the decisive question of the 2016 presidential primary season: will Bernie Sanders win New York? According to the most reliable polling numbers, the answer is no — but then again, anything could happen, and Sanders' supporters aren't ceding the victory just yet.
The website FiveThirtyEight, which aggregates political polling numbers among other things, has calculated that Clinton's chance of winning New York stands at a commanding 97 percent. Similarly, the polling data website RealClearPolitics currently predicts that Clinton will win the primary by a 13 point margin.
On the other hand, polls represent preferences among probable voters at certain points in the recent past — and that's it. Though Clinton still leads, her lead has been narrowing with each passing day, and if there was ever a time for political momentum to change hearts and minds, that time is right now in the Sanders campaign. "With [Clinton's] trajectory downward and [Sanders'] on the rise, anything can happen – especially now that their race to the nomination veers back to the east," journalist Diane Francis wrote this weekend in The Guardian.
So while it's certainly possible, a Sanders upset in New York would be just that—an upset. Clinton still leads in the polls, usually by double-digit margins. Phillip Wallach, a senior fellow in governance studies at the Brookings Institution, told ABC News that while it "certainly feel like Clinton is on her heels," it's a situation that probably won't last.
In the end, it will come down to the delegates, and the Sanders campaign is beginning to think about superdelegates—those who can vote however they please at the Democratic National Convention in July, as opposed to the pledged delegates whose votes are determined in the primaries. While it appears that Clinton will almost certainly win the most pledged delegates come July, it's possible that after the California primary in June, Sanders will have overtaken Clinton in the popular vote. In that scenario, superdelegates might change their vote from Clinton to Sanders.
"The superdelegates don't vote until you actually get into the convention process," Jeff Weaver, Sanders' campaign manager, told NPR. "So there's been a lot of talk about how the Republicans are going into an open convention. Well, the truth of the matter is, it looks like the Democrats are going into an open convention as well."
This notion that superdelegates might swing to Sanders is why Sanders could win in New York, even in the entirely probably scenario that he loses. James Campbell, a professor of political science at the University at Buffalo, told ABC News that if Sanders loses the New York primary but nevertheless has a "respectable showing," that outcome might have "superdelegates rethinking their commitment to vote for Clinton."
After all, a close race in New York certainly doesn't make Clinton look good, regardless of whether she wins, considering that she has "virtually every... Democratic leader in New York" campaigning for her, as The New Yorker put it last week. If Clinton wins by only a narrow margin, that means more popular votes for Sanders, which brings him ever-closer to leading Clinton in popular votes by the time of the convention.
And if many of Sanders' popular votes come from New York, where Clinton served as senator for two terms, that will certainly will give the superdelegates something to think about in July.