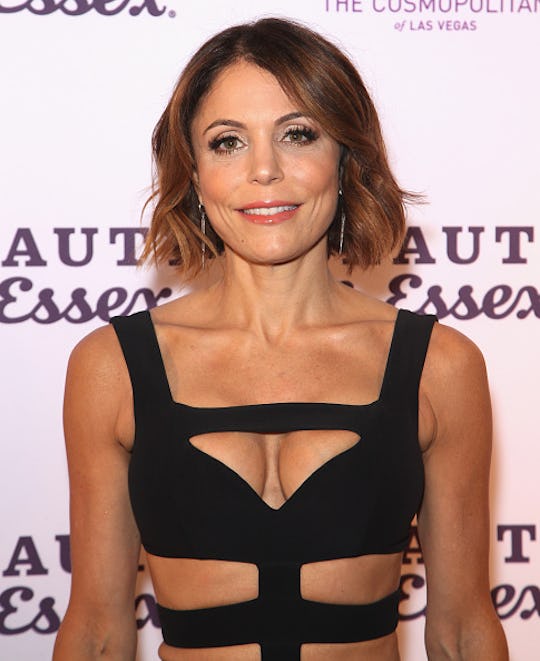 Gabe Ginsberg
Will Bethenny & Sonja Be Friends On 'Real Housewives'? Alcohol Has Torn Them Apart
Ever since Sonja Morgan announced that she was unveiling her line of sparkling rose called Tipsy Girl, Bethenny Frankel has been less than enthusiastic. Despite the fact that Sonja repeatedly referred to Bethenny as her mentor several times in Wednesday's episode of The Real Housewives of New York, when she visited Bethenny's office to discuss her new business venture, Bethenny was not having it. And on Wednesday's episode, Sonja and Bethenny's liquor lines may just tear their friendship apart.
Back in November, Sonja unveiled her prosecco line to her friends at her birthday party, where Bethenny was conspicuously absent. Page Six reported in December that Bethenny was ready to go to the mattresses over it. To her mind, Tipsy Girl sounds an awful lot like Skinnygirl. In the episode she told Sonja that her brand was what is known in the biz as a "cheater brand." After the announcement, Bethenny and her business partners apparently ran straight to court to try to copyright Tipsygirl (no space), but Sonja's business partners had already copyrighted Tipsy Girl months earlier. Bethenny's Skinnygirl is well on its way to taking over the world, and it doesn't seem likely that she would be this upset because she fears competition or even confusion with Sonja's prosecco brand, and she even said as much. She felt more personally hurt than anything.
And the words she had for Sonja were not pleasant in the least. Bethenny began grilling Sonja about what distributors she's using for her new prosecco, and when Sonja fumbled for a straight answer ("We have many friends," was as much as she could muster), Bethenny shot back, "Is this like the stores your clothes are in." Ouch Bethenny. Not pulling any punches, clearly. She went on to tell Sonja she wanted nothing to do with her. Taken aback, Sonja began crying, bringing up her Chapter 11, and how she was only trying to start a small brand, maybe serve her prosecco at her Sonja in the City parties. While Bethenny was gracious enough to hand Sonja a tissue, that was pretty much the end of the conversation.
While I love Sonja with all my heart (because she's honestly the most fun), her branding practices seem shady. While she insists that she's not trying to ride on Bethenny's coattails, my instincts say that she is. If Bethenny decides to end the friendship, I can't say I blame her.