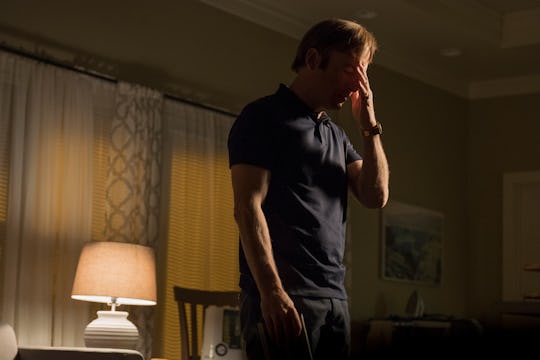 Michele K. Short/AMC/Sony Pictures Television
'Better Call Saul's Fate Remains Unclear
The third season of the Breaking Bad prequel comes to an end on Monday night, and fans can't help but wonder one very important question: will Better Call Saul return for Season 4? Right now, the series has yet to be renewed for another season and quite honestly, the odds aren't looking so good for the critically acclaimed show. That being said, Jimmy has managed to come out on top of shakier situations than this, so don't give up hope just yet.
The ratings for the Emmy-nominated series have steadily declined over the course of the third season. While it's true that the second season of the show also lost viewers, the third season's drop in viewership has been even worse and AMC may not be willing to give it another chance, despite its success amongst critics. Even so, show co-creator Peter Gould doesn't seem too concerned about the series not being renewed. Though Gould admitted during a recent interview with Uproxx that fans should "always be worried in television," he also said that "AMC and Sony have been very good to us," and he believes they will continue to be moving forward. "You asked me how many seasons we have left; hopefully, it's a creative decision to end the show, and not an economic one," he added. "I just feel lucky that we've done three seasons. I sure hope we get to do more."
Hopefully, there's at least one more season because Gould promised that if Monday night's episode's ended up being the series finale "it would be a very provocative ending." It sounds like fans may be getting a cliffhanger and that would be a terrible way to end the series for fans who have become just as obsessed with Better Call Saul as they were with Breaking Bad.
Additionally, fans have been actually awaiting for protagonist Jimmy McGill (Bob Odenkirk) to turn into the Saul Goodman character they know and love from Breaking Bad. The back half of the third season was finally seeing Jimmy transition into Saul as the timeline of the show inches closer and closer to the Breaking Bad timeline. It would be devastating for the show to end before Jimmy makes that full transition into Saul.
The perfect ending for the show would be a nice tie-in to Breaking Bad, in which Saul meets Walter White for the first time, or something like that — but will fans get that ending? One can only hope at this point. For now though, fans can tune into AMC at 10 p.m. ET on June 19 to see how the Season 3 finale of Better Call Saul plays out. You won't want to miss it.