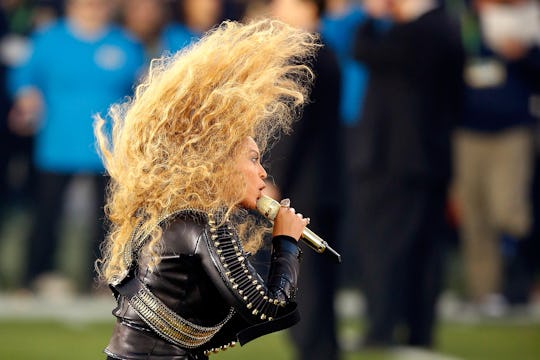 Ezra Shaw/Getty Images Sport/Getty Images
Will Beyonce Announce Her New Album & Pregnancy At The Same Time? Fans Are Growing Anxious
Beyoncé is no stranger to rumors. In fact, she seems to encourage them by keeping silent about upcoming albums, videos, tours, pregnancies, then — WHAM! She drops the news nobody saw coming. She's great at secrets and surprises, and the two swirling around her at the moment are that she's pregnant for the second time and that she's about to release an album. Conspiracy theorists are saying they are both due to happen in April, so will Beyoncé announce her new album and a pregnancy at the same time? It would be pretty typical "Beyoncé" behavior.
Since it's very difficult to know whether Beyoncé is actually cooking up a bun in the oven (unless we track down her doctor), we have to rely on what we know about her upcoming album. The facts are that she is going on tour April 27, and the tour is supposedly to promote her new album, which means that the new album has to be released before April 27 — right? That logic is sound, isn't it? April 27 is just around the corner, so the album announcement, and possibly the pregnancy announcement, may be any day now, since any expectant mom would want to get all her busy work out of the way quickly.
Another clue feeding the pregnancy rumor is that Beyoncé has been lying low since her amazing Super Bowl performance. BET did some sleuthing on her crew to see if they had revealed anything about the album, writing in a recent column,
Jay hasn't tweeted since his last birthday; Kelly Rowland is promoting her show [...] Solange is in some random conversation on Twitter involving a sports team and someone throwing cheeseburgers. The commenters are laughing about the burgers. But one commenter simply replied: I just really need to know where yo sister's album at. We feel your pain, random commenter. All too well.
So that's a dead end.
Even if Beyoncé isn't in the Illuminati (we're not ruling it out), she does have a way with numbers. Bey fans even hypothesized recently that at 4:44 a.m. on April 4 (4/4), she would release her album, citing an interview with Good Morning America, when the singer had explained, "My birthday is on the fourth. My mother's birthday is on the fourth. My husband's birthday is on the fourth. I got married on the fourth."
But, alas, that day has come and gone. So are the planets aligning any other time in April? Because that would be perfect. Eager fans should look ahead in the calendar to see if their queen will be making any big appearances soon, since the singer enjoys dropping surprises on people from out of left field on as big of a stage as possible (sometimes literally).
Both an impending Beyoncé pregnancy and album release would be huge news — but the singer ought to be careful not to keep fans in the dark too long... the Beyhive might start getting out of control.