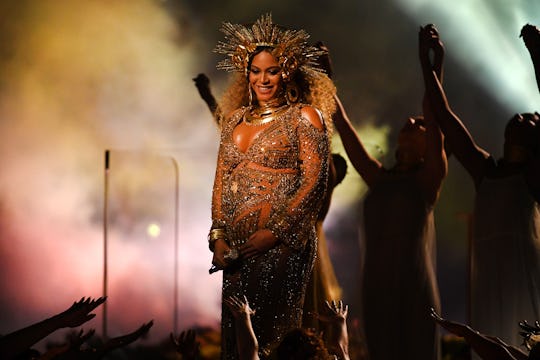 Kevork Djansezian/Getty Images Entertainment/Getty Images
Will Beyoncé Announce The Twins' Birth On Instagram?
Those who have been following Beyoncé for the last few years know that, if you want to be the first to know about her latest happenings, you need to be following her on Instagram. It's where she first announced her surprise visual album in 2013, it's where she dropped hints about her later Lemonade drop, and it's where she broke Instagram records with her pregnancy announcement earlier this year. So will Beyoncé announce the twins' birth on Instagram? Should you be glued to your phone until there's an update on the Carter twins?
It's hard to say. In the case of Beyoncé's first pregnancy, Beyoncé and Jay Z decided to announce Blue Ivy's birth via an official birth announcement distributed to media. "Hello Hello Baby Blue," they said in a statement to MTV in 2012. They continued:
We are happy to announce the arrival of our beautiful daughter, Blue Ivy Carter, born on Saturday, January 7, 2012. Her birth was emotional and extremely peaceful, we are in heaven. She was delivered naturally at a healthy 7 lbs and it was the best experience of both of our lives.
However, I did some sleuthing, and discovered that Beyoncé only joined Instagram after Blue's birth (her first post, in November 2012, was a fierce show of support for former President Barack Obama). Since then, however, she's used the social media platform to tease future albums, generate instant buzz around her projects (like Ivy Park), and share personal announcements, so a twin birth announcement via Instagram wouldn't be too surprising.
Beyoncé's affinity for using Instagram makes sense, considering how notoriously private the singer is and the level of control she likes to have over publicity. When she announced her first pregnancy, Beyoncé unveiled her bump at the MTV Awards in a seemingly casual move — but it was a tactic that was definitely planned. "I put a lot of thought into how I wanted to unveil it. It was important to me that I was able to do it myself," she told Harper's Bazaar in 2011. She continued:
I didn't want a crazy picture or gossip story to break the news, so I decided to say nothing and proudly show my baby bump. I felt it was more powerful to see the love and enthusiasm as opposed to saying anything.
If Beyoncé is still as adamant about controlling her own narrative as she was then, then chances are she'll reveal the twins' birth in a way that she can control. Hopefully for everyone who gets notifications any time Beyoncé posts on Instagram (ahem, you know who you are), she'll choose to share her news on the social media platform and break the internet all over again.