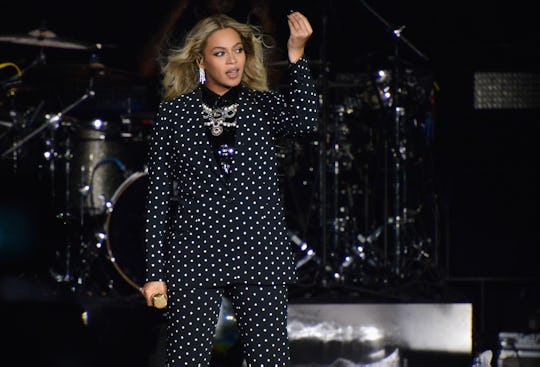 Duane Prokop/Getty Images Entertainment/Getty Images
Beyonce Shows Support For The Women's March
The Women's March on Washington is days away. On Saturday, Jan. 21, people from all over the nation and across the world will march together in solidarity for their rights and what they believe in — just one day after the presidential inauguration. It is reported that thousands of people will be in the nation's capital to attend the Women's March on Washington. But will Beyoncé attend the Women's March and be among those in D.C.? Her newest Facebook post certainly has people talking.
So what's got everyone thinking Queen Bey might be in attendance? On Wednesday, the singer posted a photo of the Women's March poster with a little commentary on her Facebook page. "Together with Chime for Change, we raise our voices as mothers, as artists, and as activists. As #GlobalCitizens, we can make our voices heard and turn awareness into meaningful action and positive change," Beyoncé wrote. Chime for Change is a global campaign "to raise funds and awareness for women around the world," founded by Gucci, along with Beyoncé and actress Salma Hayek. Beyoncé's involvement with Chime for Change and her wording in the Facebook post could have led many to believe that she might be in attendance during Saturday's march. But whether or not she'll actually be present on Saturday is still up in the air.
Beyoncé's management did not immediately respond to Romper's request for comment.
Chime for Change and Global Citizen will be joining the march in Washington, according to Global Citizen's website — to "represent women and girls around the world" in "defense of women's rights." But that doesn't mean that Beyoncé will be there — it could just mean that she is in support of the attendees. After all, Beyoncé never explicitly wrote in the post that she will be attending — still, one can dream. Right?
Of course, Beyoncé is not one to shy away from politics or activism. In 2016, she endorsed Democratic presidential candidate Hillary Clinton for president and actively works with charities — such as Chime for Change — to move the country forward. Her support of the Women's March on Washington goes along with this trend.
Even if Beyoncé doesn't make it to the Women's March on Washington, other celebrities will be there, ready to use their public platform to do some good. According to CBS News, actresses such as America Ferrera, Amy Schumer, Scarlett Johansson, Frances McDormand, and Zendaya — among many more — will be attending the march.
The Women's March is an amazing cause that aims to stand in solidarity "for the protection of our rights, our safety, our health, and our families." Beyoncé's support of the march shows that it is something that everyone could stand to get behind — whether they'll be there in person or not.