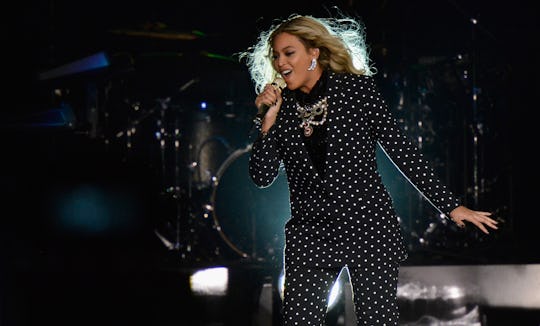 Duane Prokop/Getty Images Entertainment/Getty Images
Beyonce's People's Choice Nom May Get Her There
The 2017 People's Choice Awards is quickly approaching and it's sure to be a night filled with stars. From host Joel McHale to performers Fifth Harmony and Blake Shelton, this will be a star-studded affair to be sure. Still, many fans are wondering if their favorite celebs will be in attendance. For example, will Beyoncé be at the 2017 People's Choice Awards? Although she's nominated for three different awards this year, it seems unlikely that Queen B will be making an appearance at the award show.
After the release of her visual album Lemonade last year, Beyoncé has been sweeping up award nominations. At the People's Choice Awards alone, Beyoncé's fans have nominated her for Favorite Female Artist, Favorite R&B Artist, and Favorite Album for Lemonade. Including these nominations, the singer has been nominated to receive a PCA a grand total of 23 times, but has actually only won once, when she was first nominated in 2004 for Favorite Female Performer. This could be the year she gets her second (and third or fourth) award, but odds are she probably won't be at the event to receive it.
The "Sorry" singer has never attended the PCAs and it would be surprising if she appeared this year. Although I'd love to see her, it seems the People's Choice Awards isn't Beyoncé's scene. Maybe if we gave her more of the awards she so clearly deserves she'd come. Just saying.
Fans can definitely expect to see Beyoncé at the Grammys in February though. The Queen is nominated for a record breaking nine Grammy awards, all from Lemonade. While many were disappointed "Daddy Lessons" didn't get a Grammy nomination for Best Country Solo Performance, so she could officially conquer another genre, it's still amazing how many nominations Beyoncé snagged this year. She's officially the most Grammy-nominated female artist, which is an accomplishment in it of itself.
But while the Grammys are great, it'd be even more amazing to see Beyoncé walk away with at least one People's Choice Award this year since they're chosen by the fans. It'd be shocking to see the BeyHive not come through for their queen.
You can tune into the People's Choice Awards on Wednesday, Jan. 18 at 9 p.m. ET on CBS to see if Beyoncé comes out on top as she so rightly should.