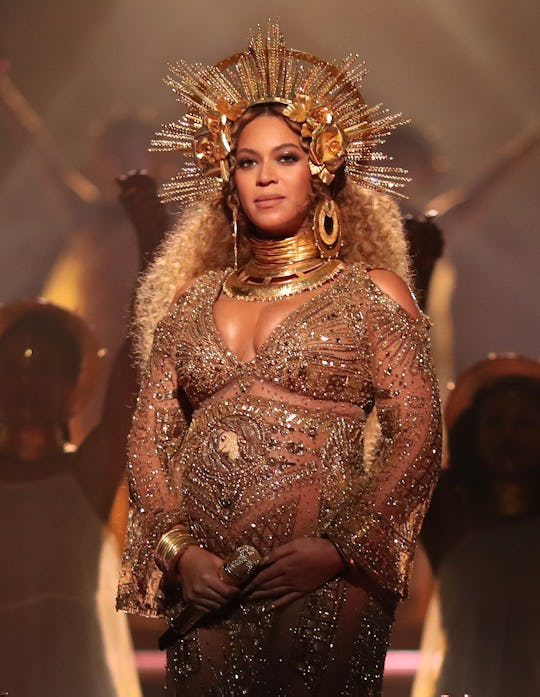 Christopher Polk/Getty Images Entertainment/Getty Images
Will Beyoncé Grace The 2018 Grammys With Her Presence?
It's been a minute since Queen Bey has blessed all of us mere mortals with new music, so she's not eligible this year for a Grammy Award. That means many may find themselves wondering: will Beyonce be at the 2018 Grammys? She may not be nominated for anything this time around, but I imagine she'll definitely be there to support her main squeeze. That would be JAY-Z, in case you were wondering. Queen Bey's husband is actually nominated for the most awards of any artist this year.
JAY-Z leads this year's Grammy nominations with a grand total of eight nods, though that should be nothing new for him. He's been nominated 74 times and won 21. This year Kendrick Lamar has the second largest number of nominations with seven. On her album Lemonade, Beyoncé seemed to reveal some dark secrets about her marriage to JAY-Z, causing many to suspect that her husband cheated on her. JAY-Z later admitted that the suspicions were true.
This year, JAY-Z released his own account of his infidelity with 4:44, an album whose lyrics read like one long, powerful apology to his wife and family. Though they may have gone through some really tough times, the Carters now seem to be better than ever, with Beyoncé and the couple's daughter Blue Ivy both making an appearance in the video for "Family Feud," a song from the album.
Considering their apparent reconciliation, there's no reason to believe that Beyoncé won't be at the awards ceremony to support her husband. They have clearly worked hard at getting their marriage back to a good place, which (at least from my perspective) speaks to how great their relationship truly is. Obviously, cheating shouldn't be anybody's relationship goal, but getting through tough times and coming out the other side stronger than ever? Yes, absolutely.
Unfortunately, though Beyoncé will most likely accompany JAY-Z to the Grammys, it looks like neither of them will be performing at the ceremony. Beyoncé brought down the house with her incredible medley at the 2017 Grammys, which she performed while pregnant with her twins, no less. Noteworthy: for Lemonade Beyoncé was nominated for nine Grammys, and even when she lost Album of the Year to Adele, Adele herself complained that the award really should have gone to Beyoncé. This year, Beyoncé won't be the star of the show, but at least she will grace the room with her divine presence. I really can't wait to see what she wears.
I also can't wait to see if she brings her kids with her. At the 2017 Grammys, Blue Ivy totally stole the show, dressed in a pink tuxedo suit that many interpreted as an homage to Prince, who had recently died. She spent most of the night dancing and playing with her bedazzled cat-shaped purse, which is not unlike how I imagine I would behave at the Grammys. (Though it would probably be a little less cute in a 27-year-old woman.) Beyoncé gave birth to twins Sir and Rumi on June 13 of last year, which means that the little ones are not quite a year old. I think it's probably unlikely that the two babies will be at the ceremony (it's not exactly an infant-friendly event), but the world will be waiting with bated breath to see them regardless.
Among his many nominations, JAY-Z is nominated for Album of the Year, Record of the Year, and Song of the Year. Is it wrong if I kind of hope he loses because Beyoncé lost those awards last year? Sorry not sorry.
Check out Romper's new video series, Romper's Doula Diaries:
Watch full episodes of Romper's Doula Diaries on Facebook Watch.