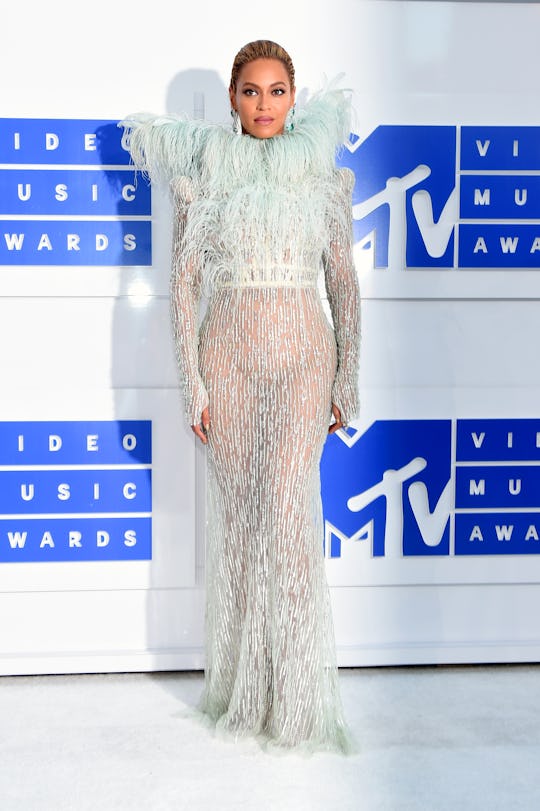 Larry Busacca/Getty Images Entertainment/Getty Images
Why Beyonce Might Make An Appearance At The 2017 VMAs
Remember when Beyoncé and Blue Ivy stunted on the red carpet at MTV's Video Music Awards last year? Or when Bey swept all categories with the incomparable Lemonade? Since we're still reeling from all the slayage, fans need to know: Will Beyoncé be at the VMAs this year, too? Because, honestly — if the Queen isn't going to be there, then why bother watching the annual awards show at all?
First you've got to consider the circumstances, starting with reasons why Beyoncé would definitely show up at this year's events. For one, she appears to have been living her best life after the birth of her twins, so making a red carpet appearance might be right up her alley. Bey's been seen at the roller rink, sipping a glass of wine on date night, and finding her soul in spin class. So it's safe to say she's enjoying herself. A night to dress up and boogie with her MTV crew, then, isn't out of the question.
What's more, her main man Kendrick Lamar is nominated for eight awards, securing his place as the VMAs' top nominee. Bey rocked out at his concert at the beginning of August, so she it's possible that she'd definitely take any opportunity to support her friend and fellow musician (who she collaborated with on Lemonade's "Freedom").
Again, Beyoncé killed it at last year's VMAs. She won 11 awards and had the most adorable date; Blue Ivy rocked a glamorous dress and crown, and the sweet pictures were absolutely priceless:
There are plenty of reasons why she'd want to attend the event, but let's face the facts: Beyoncé's not nominated for any VMAs this year. It's not because she was snubbed or anything, she just didn't come out with any new content this time around (because, you know, she was busy having her twins). And speaking of twins — Bey's got a house full of kids at the moment. Sure, we'd like to see Blue Ivy, Sir Carter, and Rumi join her in full glam, but it might be a bit more comfortable for everyone to just chill at home and watch the VMAs from the couch.
As of now, Bey hasn't given any indication that she will — or won't — attend the VMAs. But who will definitely be there? Well, Katy Perry's hosting, and Miley Cyrus, Lorde, Ed Sheeran, and others are slated to perform. So even if our number one doesn't make it (because, I mean, babies), other attendees will definitely bring their A-game.