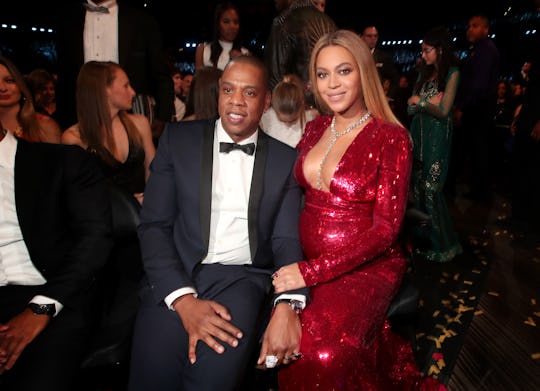 Christopher Polk/Getty Images Entertainment/Getty Images
Will Beyoncé Be On Jay Z's Album, '4:44'?
Looks like rapper Jay Z had quite the Fathers' Day, as reports circulated over the weekend about the birth of his twins (finally!) with wife and Goddess Among Us Beyoncé. Late Sunday night, Jay Z dropped the news that his 13th solo album, 4:44, would be released at the end of this month, exclusively on his streaming music service, TIDAL. Will Beyoncé be on Jay Z's 4:44 album? There's been very little details about what 4:44 might be about, beyond some very cryptic advertising and an all-too-brief 30-second teaser clip from the track "Adnis" released by Sprint on Saturday.
Jay Z and Beyoncé's most recent collaboration together was on DJ Khaled's "Shining," which was released just this past February. As for a husband-wife collaboration on any of Jay Z's albums, the pair could be heard on the track "Part II (On The Run)" on his last album, Magna Carta Holy Grail. It's hard to believe it's been a whole four years since Jay Z's last solo album dropped. Want to go even further back in time? The first part of their ongoing musical collaborations about their relationship to which "Part II" references is their "03 Bonnie and Clyde" collaboration on Jay Z's seventh studio album, The Blueprint 2: The Gift & The Curse — which was released 15 years ago. Damn, I feel old now. No word yet on whether Beyoncé will return for a part III on 4:44.
Here's what we do know about 4:44 so far. Like Beyoncé's Lemonade, there's a strong possibility that Jay Z's 4:44 might be a visual album, according to Pitchfork. The album, developed in partnership with telecomm company Sprint, appears to have some kind of filmic element, as evidenced by a 30-second teaser featuring Moonlight's Mahershala Ali and Danny Glover, with Jay Z laying down lyrics in a voice over on the track "Adnis." The luminous Lupita Nyong'o is also set to star in the 4:44 film as well.
When daughter Blue Ivy was born, she got her very own song in Jay Z's beautiful "Glory," describing his and Beyoncé's painful journey to parenthood after miscarriage. In 4:44's "Adnis," what brief lyrics Jay Z has released reference fatherhood and some kind of pent up creativity:
Letter to my dad that I never wrote
Speeches I prepared that I never spoke
Words on a paper that I never read
Proses never penned
They stayed in my head
If fans are hoping for a third musical collaboration in what seems to be an unfolding lyrical story of Beyoncé and Jay Z's epic relationship, they're going to have to wait just a little bit longer when 4:44 drops on June 30, exclusively on TIDAL and to Sprint customers.