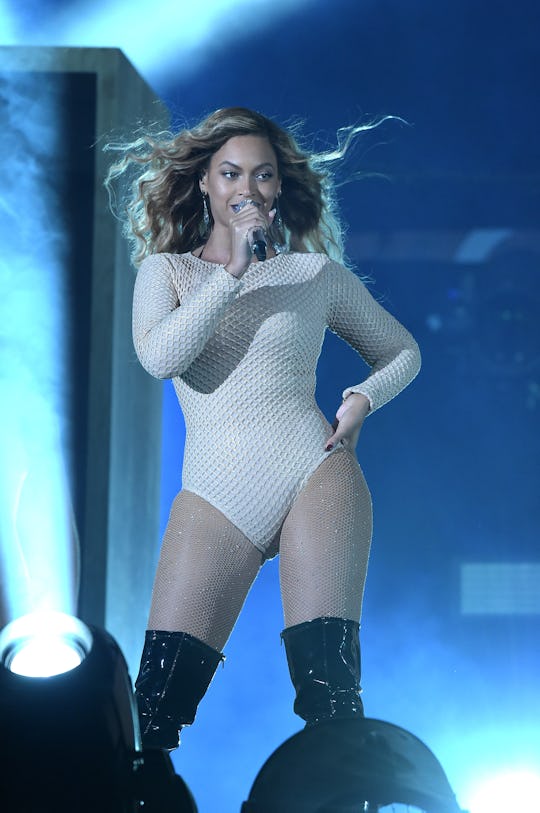 Theo Wargo/Getty Images Entertainment
Will Beyonce Lip Sync Her Super Bowl Performance? She's Faced Criticism About It Before
Queen Bey is set to stun at Levi's Stadium. But when she joins Coldplay onstage for a guest appearance, will Beyoncé lip sync her Super Bowl performance? If her previous time as a halftime show headliner is any indication, the answer is probably no.
This year's Super Bowl halftime show will pack some serious star power. Though Coldplay is officially at the helm, Entertainment Tonight reported that Coldplay invited Beyoncé to take the mic alongside the band. Bruno Mars is also rumored to be a surprise guest. If it's true, the band will take the stage with two halftime show veterans: the setup for a magnificently memorable performance.
Though it's obvious that Beyoncé is in total command onstage, a controversy several years ago led to questions about how often she actually performs live. Beyoncé belted the national anthem at President Barack Obama's second inauguration; but according to The Washington Post, a Marine Band representative revealed that Beyoncé sang along with a recording of "The Star Spangled Banner." Leading up to her halftime show performance during Super Bowl 47, Beyoncé opened a press conference by performing the song a cappella to prove she could do it without help. Then, she explained why she used a track at the inauguration before assuring reporters that she'd sing live at the Super Bowl:
I am a perfectionist, and one thing about me: I practice until my feet bleed. I did not have time to rehearse with the orchestra. It was a live television show and a very, very important, emotional show for me, one of my proudest moments. Due to the weather, due to the delay, due to no proper sound check, I did not feel comfortable taking a risk. It was about the president and the inauguration and I wanted to make him and my country proud. So I decided to sing along with my prerecorded track, which is very common in the music industry. I'm very proud of my performance.
Beyoncé ended up delivering a performance that had the audience screaming with joy in the Super Dome. Now that she's making her return to the football field, fans hope she'll be able to go just as big. Coldplay is a big fan of Beyoncé's live singing voice. After Beyoncé joined them in the studio to record background vocals for several tracks on A Head Full of Dreams, Coldplay frontman Chris Martin told MTV that he was definitely impressed by her musical mastery:
When she's on the microphone in the studio, you can just tell that this is a person that can choose any color from the palette and do it perfectly, musically. She sounds a bit different, and she was very kind of humble. She didn't really want, she didn't ask for anything or say 'I need my own bit here.' She was so lovely.
Beyoncé will likely just bring her greatness to the stage — no lip syncing required. And if she is accused of lip syncing, she'll definitely shut it down like the Queen she is.