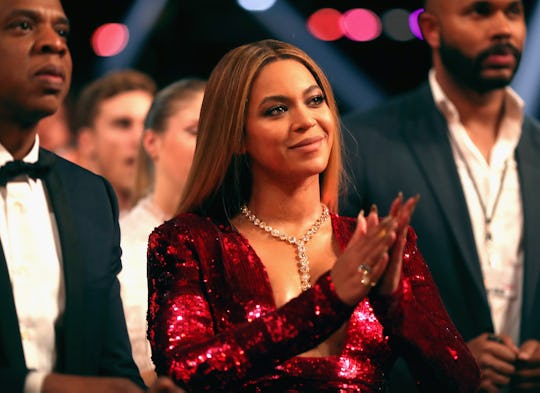 Christopher Polk/Getty Images Entertainment/Getty Images
Will Beyoncé Perform At The 2018 Grammys? Fans Want To See The Queen On Stage
It's that time of year again. Awards show season is upon us, and the Grammys are just around the corner. Beyoncé gave an incredible performance at the awards show back in 2017 that had people talking for quite awhile after, and this year's event is sure to have some phenomenal moments as well. But is Beyoncé going to perform at the 2018 Grammys, like she did last year? At the very least, she is expected to show up at the event at Madison Square Garden.
On Sunday, the 60th Annual Grammy Awards are scheduled to take place live from New York for the first time in 15 years, according to CBS News. Considered "music's biggest night," the Grammys will be hosted by late night talk show host and actor James Corden, and there are sure to be some stunning performances.
But one of those performances will not be by Beyoncé, at least according to current reports. However, JAY-Z is nominated in all of the major categories, so he is set to be there. And as his wife, it's likely that Beyoncé will be in attendance as well, TIME reported.
At the 59th Annual Grammy Awards, Beyoncé performed songs from her Album of the Year-nominated Lemonade, and basically stole the entire night. Her performance was all people talked about for days. Well, that and Adele's acceptance speech for the award, where she seemed personally stunned that she won over Beyoncé.
So it might be a little surprising that Beyoncé is listed as a performer for this year's ceremony. But honestly, she might just be more focused on her upcoming Coachella performance instead.
There are going to be a ton of other performances that will probably be relatively entertaining, however — even if they won't include the Queen. For starters, Rihanna is set to perform with DJ Khaled and Bryson Tiller, singing their summer hit, "Wild Thoughts," according to Entertainment Tonight.
Cardi B and Bruno Mars will team up for a performance at the Grammys as well. Miley Cyrus and Elton John are set to do an unlikely duet too, and Alessia Cara, Khalid, and Logic will do a "trio performance" of the suicide prevention anthem, "1-800-273-8255," Entertainment Tonight reported.
Pink is also scheduled to perform, as well as Lady Gaga, who will reportedly perform a track from her latest album, Joanne. Other definite performers include Kendrick Lamar, Kesha, Sam Smith, SZA, U2, Daddy Yankee, Luis Fonsi, Childish Gambino, Little Big Town, Patti LuPone, and Ben Platt.
A group of country stars, including Maren Morris, is supposed to perform an homage to the victims of October's Las Vegas shooting during the awards show as well, according to TIME.
If JAY-Z wins one of the big prizes like Album of the Year at the Grammys this year, both his fans and Beyoncé's would probably be thrilled. People are really hoping to see JAY-Z's 4:44 album get the big award, according to Forbes, and Beyoncé's influence is all over that project. Can you just imagine if he got it, and either brought up Beyoncé or at least gave her an epic shout-out during the show? Or if Blue Ivy or the twins are present too? That would certainly be something for Grammy viewers to talk about.
So even if Beyoncé is not scheduled to perform at the 2018 Grammys, she might still be there anyway. And that might be enough for her fans who miss seeing the Queen do her thing, even though they likely understand that she's busy these days with three small children. Beyoncé might not be performing at this event, but she hasn't given any indication that she's slowing down as a creative genius and superstar performer any time soon.
Check out Romper's new video series, Romper's Doula Diaries:
Watch full episodes of Romper's Doula Diaries on Facebook Watch.