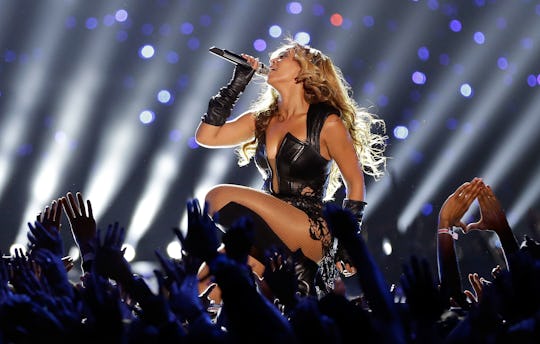 Ezra Shaw/Getty
Will Beyonce Perform 'Formation' At Super Bowl 50? Oh God We Hope So
What a weekend this is turning out to be, folks. On Saturday, Beyoncé debuted a brand new single — her first since her self-titled album in 2013. And on Sunday, she will join British rock band Coldplay, the headliners for the Super Bowl Halftime Show. Which of course, begs the glaringly obvious question: Will Beyoncé perform "Formation" at the Super Bowl? Hopeful answer: Yes oh please oh please! Actual answer: Um, maybe? Probably? Here's what we know so far.
According to Entertainment Tonight, Beyoncé will perform "Formation" at the Super Bowl during halftime. With Coldplay headlining the Super Bowl Halftime Show, it's pretty much a guarantee that we'll hear their new track, "Hymn For The Weekend" — Coldplay's video of the song released in January featured an uncredited cameo and vocals from Beyoncé. So it would only make sense that Beyoncé would take even just a teeny bit of stage time to "go hard" on her brand new single that just so happened to drop the day before the Super Bowl. And while it's awesome that Bruno Mars has finally been confirmed as a Super Bowl Halftime Show guest, let's be honest: we're all going to be watching for Queen Bey and her slayin' it on "Formation."
Some more hints that "Formation" will totally happen at Super Bowl 50:
After those early days of speculation from The BeyHive (Beyoncé's biggest and most loyal group of fans online), they tweeted out that yes, "Formation" is totally happening during the Super Bowl Halftime Show:
Okay, so if their earlier tweet that Beyoncé will only perform one song, then maybe she won't be joining Coldplay for "Hymn For The Weekend." Which, honestly, is fine by me and the rest of the internet. That just means plenty of more time for "Formation," am I right? SB Nation thinks the Super Bowl should take it a step even further: "The NFL should cancel the Super Bowl and let Beyonce perform 'Formation' for 3 hours." I would totally be okay with that.
Here of course, is the great big tease: Queen Bey releases a brand new single the day before the Super Bowl... but we won't really know if she's going to debut "Formation" live until she appears on the stage during halftime on Super Bowl Sunday. A brilliant marketing move, for sure — and even more incentive for fans to tune in live to the one of sports' biggest events of the year.
The Super Bowl 50 Halftime Show airs on Sunday, Feb. 7 on CBS.
Images: Ezra Shaw/Getty