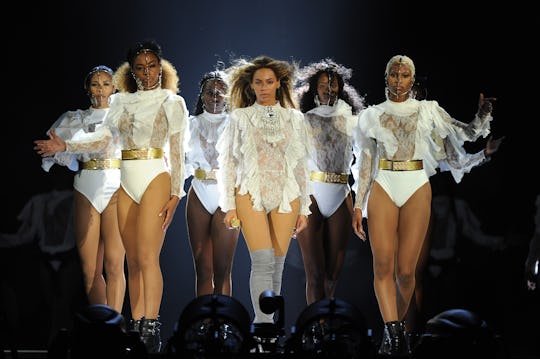 Handout/Getty Images Entertainment/Getty Images
Will Beyonce Perform 'Lemonade' Music On The Formation World Tour? It Will Be Amazing
Beyoncé has done it. She's finally caused people to really lose their damn minds in a great way. Her perfectly-timed and exquisitely-executed launch of her world tour has left her legions of fans on the floor in a puddle of quivering, twerking ecstasy without the ability to do anything but raise an outstretched credit card toward the east and purchase our own ticket to worship live, and in person, at Her Majesty's throne. So will Beyoncé perform songs from Lemonade on the Formation World Tour? Duh. That's totally the point. This is the music from Lemonade's announcement party. So strap on your stilettos (or body suit... or whatever you want to wear) and get those dance moves down, cause the "Formation" celebration is probably coming to a stadium near you.
From the unannounced drop of "Formation" just days ahead of her amazing Super Bowl performance right through to last week's cryptic announce of the HBO premiere of Lemonade, her visual album, and culminating with the Miami launch of her Formation World Tour, Beyoncé has proven she's at the tippy top of — not just her game — but the entire music game. And if anyone wondered if her live tour could possibly deliver with the same thrilling emotion as her Lemonade visual album, according to a review of the Formation tour from the New York Times' Jon Caramanica, Beyoncé perfectly integrates the best songs from Lemonade like "Sorry" and "Don't Hurt Yourself" into the story lines about her life we already know so well, like "Dangerously In Love" and the result is a new perspective on the diva altogether.
And not to be outdone by her haters and detractors, master marketer Queen Bey is also hilariously selling "Boycott Beyoncé" merchandise during the tour.
Oh, and as if you needed confirmation, every single look Beyoncé brings on the "Formation" tour is truly perfection.
Noticeably absent tracks from Lemonade on her set list for her first Miami performance, according to the review, were "Sandcastles" and "Forward," two of the songs on the album focused on the healing and reconciliation aspects of whichever relationship — or relationships — she's talking about.
But fans can probably expect Beyoncé to mix up her set from city to city. In Miami, she made a point to pay tribute to Prince with a performance of "Purple Rain." So you really never know what she'll bring every night, other than that it will be fierce.