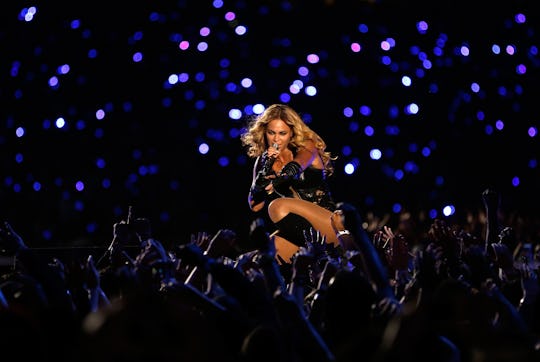 Ezra Shaw/Getty Images
Will Beyonce Reveal A Pregnancy At The Super Bowl? The Singer Is Definitely Fond Of Surprise Announcements
Beyonce and Jay Z are the closest things we have to royalty here in the United States, so any hint of a new addition to our royal family gets the rumor-mill turning. A recent photo of Beyonce showed the singer covering her stomach, with the slightest little bump peeking through. Now, fans are wondering whether Beyonce will reveal a pregnancy at the Super Bowl, or whether they got their hopes up for nothing. (Please let it be the first one.)
Beyonce's other secretive behavior of late has only been fueling speculation. During a video shoot this past weekend, she wore a loose hoodie over a layered dress and shied away from cameras and questions. In some images from that same weekend the singer was seen holding her hand over her stomach. While rehearsing at the University of Southern California for her appearance alongside Coldplay at the 2016 Super Bowl halftime show, Beyonce was seen again wearing a large, bulky coat. If this evidence sounds a bit tenuous, it is.
But that's not all. An insider told Us Weekly last January that "they (Beyoncé and Jay Z) wanted to give Blue a sibling" close age. "She's been trying to lighten her load a little, so if it happens she's prepared work-wise," the source told Us.
Another reason the rumors might be true? Beyonce seems fond of surprise announcements. That's her style. Her first baby announcement came during the 2011 MTV Video Music Awards — and the only thing more public than a major award show may be the Super Bowl halftime show. That said, there has been plenty of false speculation about Beyonce's possible pregnancy all year. Over the summer there were rumors she might be hiding a baby bump. If those rumors were true, by the time the Super Bowl comes around, she won't be able to hide it any more!
Already, fans are casting predictions, with reactions ranging from the inspirational...
... To the hopeful...
... To the skeptical:
Twitter user Katherine Price has a point: It is cold out. Maybe Bey just wants to wear coats? Still, if the Queen is pregnant with her second child and if she announces during the Super Bowl, that is going to be a mic drop moment to remember. Beyonce is already going to steal the show as it is — now it's just a question of how. The only thing fans can do at this point is wait, and tune into the Super Bowl on Sunday Feb. 7.