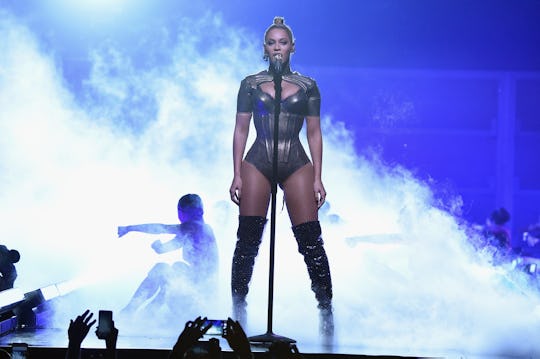 Theo Wargo/Getty Images Entertainment/Getty Images
Will Pregnant Beyonce Perform At Coachella?
Beyoncé fans just got some happy news today: The Lemonade star is pregnant with not one, but two new Knowles-Carter babies! Those who bought Coachella tickets to watch Queen Bey headline the festival in April, however, might also be wondering if this news changes things. Will Beyoncé still perform at Coachella while she's pregnant?
Beyoncé is slated to headline the second day of the festival, on April 15 and again on April 22, and her name is still up in big, bold letters on Coachella's website. According to TMZ, a few top executives at AEG Live (the company that puts on the festival) reportedly had no idea that Beyoncé was pregnant. And since the star is probably around four to five months into her pregnancy at the moment — at least by TMZ's estimates — her performance at Coachella could be up in the air.
Then again, Beyoncé did perform at the Video Music Awards in 2011 when she was pregnant with Blue Ivy. However, she wasn't quite as far along at that point — she performed in August, with Blue Ivy due in February — and yet she still found her performance a little more difficult to carry out than usual. "When you're pregnant, it's a little bit harder to breathe, so it was hard doing all the choreography and singing at the same time," she told a crowd in 2011, according to Us Weekly.
Romper has reached out to Coachella's organizers for comment, but has yet to hear back. For now, it's unclear whether Beyoncé is still planning on performing at Coachella — but fans on social media are willing to hazard a guess. Some are hopeful that they'll see a very pregnant Queen Bey slay, while others are ready to sell their $399 tickets to the next interested buyer.
On Twitter, fans may have been quick to celebrate the news of Beyoncé's pregnancy, but they were just as quick to question her upcoming Coachella performance. Plenty of fans weighed in:
If anyone could perform while pregnant with twins, let's be clear: it's Beyoncé. Still, even if the Lemonade queen doesn't manage to headline the festival, fans will still be getting the gift of two new Knowles-Carter kids — and that means countless new baby photos from Beyoncé over the next few years. (Can we just take a moment to appreciate how cute Blue Ivy will be as a big sister, too, please?)
Festival or not, Beyoncé's clearly got some exciting times coming up in 2017.