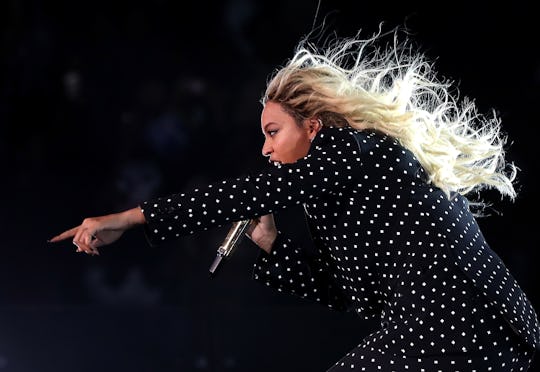 Justin Sullivan/Getty Images News/Getty Images
Will Beyoncé Tour In 2017? Fans Miss Her Already
The last time Beyoncé went on tour was for her Formation World Tour, in 2016. The tour started in April in Miami, and ended in October in New Jersey. Even though she was last on tour not that long ago, her fans want more, and some are asking, will Beyoncé tour in 2017? No one knows yet, although most signs point to "no," at the moment.
According to Philly.com, the singer's Feb. 12 performance at the Grammys was apparently her only performance since her last tour date in October. But she is supposed to headline Coachella in April, and according to Us magazine, she's "currently in rehearsals" for the event, a source told the site. So it sounds like Beyoncé hasn't totally stepped down from performing, despite the fact that she's currently pregnant with twins.
But her pregnancy might be one of the reasons that she's refraining from announcing any upcoming tours, specifically any tours planned for this year. According to Lindsay Bondurant, a pediatric audiologist at Salus University in Elkins Park, performing or attending one concert should be OK for the pop superstar, but chronic exposure of that level of noise might be an issue for her unborn twins, Philly.com reported. She stated:
For somebody like Beyoncé who's doing this all the time, there might be more of a concern then, or for somebody who works in a factory or with airplanes or something like that.
According to a source that spoke with Us Weekly, Beyoncé and her husband, Jay Z, had been trying to conceive for awhile before this pregnancy, and Beyoncé had had some unsuccessful in vitro fertilization treatments before it finally worked out. (None of this information has been confirmed, and reps for the couple have not responded to comments regarding whether they used IVF to conceive.) So the singer is probably working hard to make sure she does everything she can to not jeopardize the pregnancy, and that might include not touring for awhile.
Of course, Beyoncé's fans want her to have a healthy, safe pregnancy, but the chance to see her in concert is an exciting possibility for the Beyhive. Fans on social media are already reminiscing about her Formation tour, despite the fact that it only wrapped up a few months ago.
"RT/like if you miss the Formation World Tour," Twitter account @BeyonceCapital tweeted a few days ago.
And @thugyonce made a joke about the singer's pregnancy and a possible future tour, tweeting, "It won't hit me that Beyoncé is having twins until I'm at the next tour in 2020 and they in an interlude"
Right now, the only appearances Beyoncé is scheduled to make for performances are at Coachella in April. But the singer never stays off the stage for too long, so she's likely to surprise fans with a new single, album, or a tour announcement before long. For now, she has other things to focus on, like her pregnancy and the shenanigans of her 5-year-old daughter, Blue Ivy.
And when Beyoncé decides she wants to tour again, it's not like that news will stay under wraps. She's one of the biggest stars in the world, and when Beyoncé wants people to know she's ready to tour, she'll let the world know. For now, Beyhive members and fans of Queen Bey just have to stay tuned.