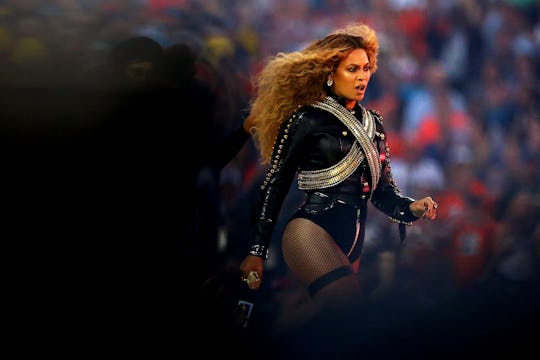 Ronald Martinez/Getty Images Sport/Getty Images
Will Beyonce's 'Lemonade' Project Be On Tidal? The Announcement Is Still Mysterious
Brace yourself, Beyoncé fans: Queen Bey has something new up her sleeve and it is coming soon. Very soon. In fact, the singer-songwriter's latest project Lemonade is slated to appear on HBO Saturday, April 23 at 9 p.m. But what is Lemonade and will Beyoncé's Lemonade project be on Tidal?
It appears the latter answer is contingent on the first: what is Lemonade? And, unfortunately, the answer remains unclear. Several news outlets, like Us Weekly and Entertainment Weekly, have reported Lemonade is an album film/concept video, while other outlets — like USA Today — have referred to it as "an event." And, while Beyoncé did share two short video clips for the project on Instagram, that is it. All we have to go on is 30 to 40 seconds of video, and two short voice overs.
However, here is what we do know: Lemonade is a one-hour HBO special. It is not a concert and, according to an unauthorized HBO executive and USA Today, it's a docu-style event similar to Beyoncé's 2014 HBO special, Life is But a Dream. But back to Tidal? Will Lemonade be available on Tidal?
Maybe, maybe not. Much like Apple Music and Spotify, Tidal is a subscription-based music streaming service — a music service from the mind of rapper (and Bey's husband) Jay-Z. It was designed as a way for artists to "take back" their industry and, according to Tech Insider and Jay-Z himself, Tidal pays their singers and musicians higher royalties than their competitors. The company also prides itself on working to help cultivate and promote up-and-coming artists. However, Tidal is a music service — a music-only service. This means that if the Lemonade project is strictly a movie or video, Tidal subscribers could be S.O.L. However, if Lemonade proves to be some sort of album-film hybrid, Tidal users may be in for an extra special treat!
Regardless of whether Lemonade proves to be a part of her upcoming and yet-to-be released album, one thing is certain: the HBO event is slated to premiere just days before the launch of her world tour, which kicks off April 27 in Miami, and one has to assume the two are related. Because Beyoncé is very deliberate, and she doesn't make any mistakes (at least when it comes to her career and her "product").