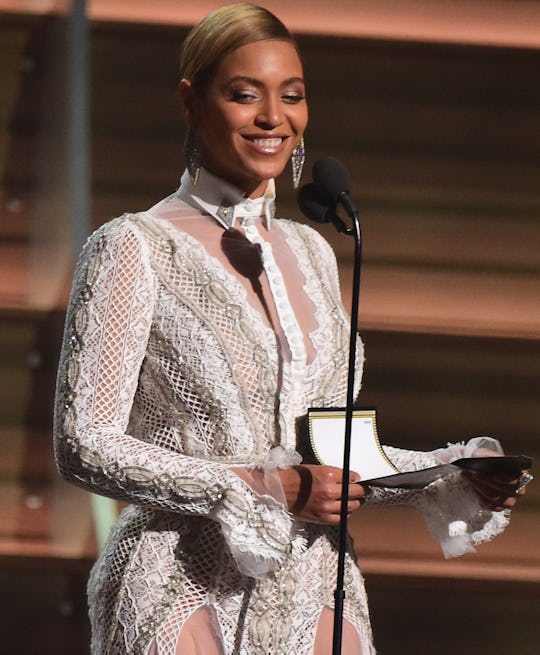 ROBYN BECK/AFP/Getty Images
Will Beyonce's Next Album Be About Jay Z? The Rumored Release Date Is A Big One For The Couple
The latest rumor to hit the Internet regarding Beyoncé's new album includes speculation about its topic. Now, if you want to get really technical, we don't actually know for a fact that a new Beyoncé album even exists, but come on, now, it totally does. She released a new single and video, "Formation," back in February, and she's going on tour in April. Of course there's an album. And technically we don't know when it will be released, either, although internet sleuths are betting that it drops on April 4. Now fans are wondering if Beyoncé's new album is about Jay Z. April 4 is their eighth wedding anniversary, and, as everybody knows, the traditional anniversary gift for the first year is paper, the fifth is wood, and the eighth is a studio album released exclusively on your beloved's Internet music streaming app.
Tradition aside, the unnamed mystery album probably won't be about Jay Z, at least not exclusively. Think about how obnoxious it is when that one friend on Facebook won't stop posting about how much they love their spouse. Unfollow, am I right? Nobody wants a whole album of that. A track or two is fine; "Drunk in Love" went over very well, and that song was about the couple doin' it in a bathtub, for goodness' sake. But a whole album? Nah.
More evidence that the album won't be one long love letter (or sext) to her husband? The collaborators. Billboard has reported that Future, D.R.A.M., Bone Thugs N-Harmony, Wiz Khalifa, and even Cara Delevingne (what?) may be appearing on Beyoncé's next album, and I'm sorry, but I just don't see all of those people rapping about Jay Z's junk, or what a great dad he is, or whatever. Bonus: there's even a story from Us Weekly about former Secretary of State and possible future queen Hillary Clinton showing up while Beyoncé was filming a video in Los Angeles recently. Could she possibly make a cameo? Probably not, but it's a fun thought experiment.
When taking "Formation" into account, it seems more likely that the album will be political. Both the song and the video were an anthem for black pride, specifically, black Southern woman pride, with shades of the Black Lives Matter movement. It was a bold move to preface her album release with this song, which had the unfortunate effect of alienating some (white, police-loving) fans. Why choose your most controversial song as your first single? Well, maybe it isn't the most controversial one. Maybe "Formation" is just one of many bold statements expressed on the new album. Or maybe it's about Jay Z. Who knows? Hopefully the BeyHive will release more information as April 4 approaches.