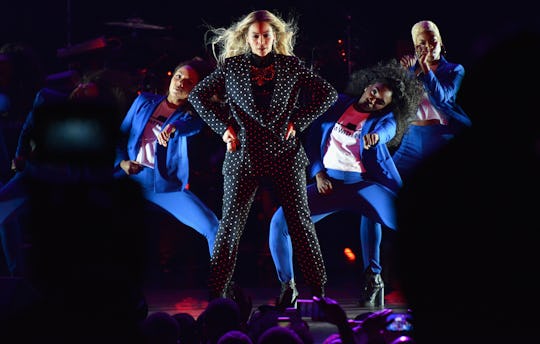 Duane Prokop/Getty Images Entertainment/Getty Images
Beyonce's Baby Announcement Might Affect Her Tours
On Wednesday afternoon Beyoncé gifted the free world with a welcomed and surprising announcement: she's pregnant with twins. In what can only be described as an overwhelming and palpable feeling of dread, given our current state of political affairs, learning that a double-dose of Knowles-Carter is in our collective future was the reprieve we all needed. However, after all the excitement, many fans are wondering, "Will Beyoncé's pregnancy affect her future tours?" Honestly, I'm not too sure we want the answer to that question.
Recently, and way before Beyoncé stunned the world with news she's cooking up a double dose of Knowles-Carter magic, Beyoncé made headlines as being the first black woman to headline Coachella. She was also the first woman to headline the music festival in 10 years (Björk headlined in 2007). However, TMZ reports that high-ranking officials of AEG Live, the company that produces Coachella, had no idea the singing sensation was expecting. That doesn't bode well for planning, and puts a pretty valid fear in the hearts of Beyoncé fans the world over. Currently, it is unclear as to whether Beyoncé will perform. She has yet to announce how far along she is (and any guessing is, honestly, the wrong thing to do) but chances are she will still be pregnant with twins in April.
During an on-stage interview at NYC's Roseland Ballroom in 2011, Queen Bey explained some of the difficulties associated with performing while simultaneously growing a human person inside your body.
"When you're pregnant, it's a little bit harder to breathe, so it was hard doing all the choreography and singing at the same time."
Then again, Beyoncé did perform during the 2011 MTV Video Music Awards while she was pregnant with Blue Ivy, so we can all collectively hold onto the hope that she's willing to do much of the same come April. (If it's safe for her to do so, of course. I mean, it's just a show and this is a woman and her pregnancy we're talking about. If we really want to listen to Beyoncé's music, we can turn to iTunes.)
Still, fans are quickly taking to Twitter to voice their concerns about Coachella. Here are just a few of the many fears (and a few of the hopes, because nothing is for certain as of yet), in 140 characters or less, of course.
Whatever Beyoncé and her team decide to do, we can rest easy knowing that in a few months (or however long because, again, guessing a pregnant woman's due date isn't cool) the world will be a little brighter. Twice over.