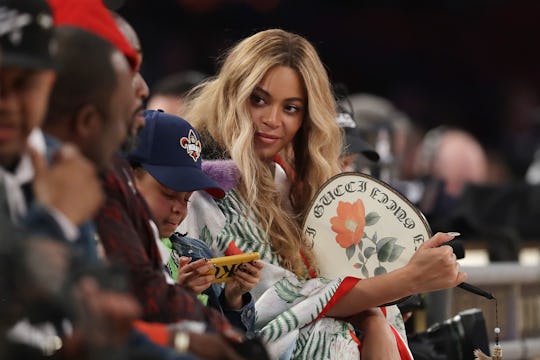 Ronald Martinez/Getty Images Sport/Getty Images
Beyoncé's Twins Will Reportedly Stay On The West Coast
Now that the long-awaited Beyoncé and Jay Z twins have made their grand entrance into the world, many are wondering which city will be blessed with their glory. Will they stay in Los Angeles, or will Beyoncé's twins move back to New York, where their high-powered parents had previously been living? It appears that New Yorkers will have to content themselves with other celebrity baby sightings: Reportedly, the newest additions to the Knowles-Carter family will be staying in L.A.
According to Variety, Beyoncé and Jay Z will be dealing with those exhausting, all-consuming first few months of baby life in a rented Malibu compound with 10 bedrooms that goes for $400,000 a month. Although Beyoncé has stayed mum about the birth so far, she reportedly moved into the home with the twins after spending a little extra time at the hospital. The twins are believed to be a boy and a girl, although the couple has not confirmed this. (When the official birth announcement comes, though, it might break the internet, if the couple's track record is any indication.)
The Malibu home could be theirs permanently for only $54.5 million, and it seems to have more than enough to offer the couple, the twins, and their older daughter, 5-year-old Blue Ivy. Still, The Daily Mail reports that they're not planning on staying at that particular lavish estate past the end of the summer.
Instead, Beyoncé and Jay Z are reportedly on the lookout for something even more impressive and no, a New York City penthouse apartment is apparently not what they have in mind. Queen Bey will not settle for just any old luxury real estate!
According to Page Six, the quest for the right Hollywood home has been on the couple's mind for a long time now:
Jay and Bey have been looking to buy an LA pad for years. In 2014, they were interested in a home built by Bruce Makowsky, but Minecraft billionaire Markus Persson beat them to it, paying $70 million. Then there was the Beverly Hills mansion that Tom Ford reportedly outbid them on. Since then, they've only rented mansions in LA.
They've also reportedly been looking for kindergartens in the area that Blue Ivy can attend and, according to Variety, they've got a budget of $75 million to spend on the perfect house. What better incentive to finally pull out all the stops and settle into the right home than the arrival of their twins?
Better luck with the next exciting celebrity babies, New Yorkers. Los Angeles has you beat this time.