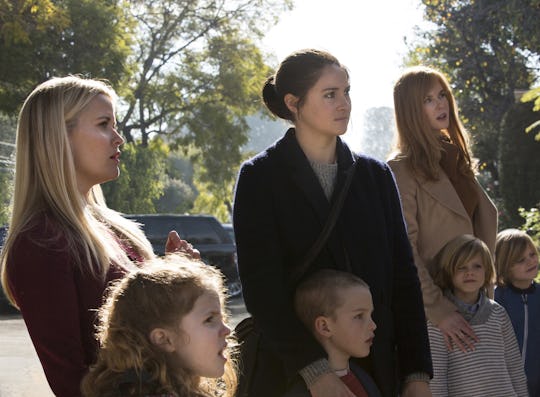 Hilary Bronwyn Gayle/HBO
Watching 'Big Little Lies' May Be Difficult For Some
Big Little Lies, the HBO limited series based on Liane Moriarty's 2014 novel of the same name, premiered its seven-episode run with an all-star cast, killer storylines (literally), and all the ostentatiously named seven-year-olds we could handle. Now that its over, fans of the novel who may not have had an HBOGo log-in at their fingertips might be wondering: will Big Little Lies be on Netflix? Unfortunately, HBO has a pretty strict no-partnering record with Netflix.
While Netflix does carry some premium cable shows like Showtime's Shameless, HBO doesn't have any plans to release its content to the streaming service any time soon. They do have a multi-year deal with Amazon Prime, but that's mostly only for their older content which doesn't stream as popularly anymore. Since Amazon Prime doesn't have many sleek, mega-budget, high-quality dramas, HBO can afford to distribute some of its content there. Amazon Prime's most successful, critically acclaimed, award-showered show is Transparent, which, as a half-hour format show that submits in the comedy categories, doesn't really threaten HBO's heavy-hitters. Netflix, with its huge budgets, complex dramas, and crowded production slate, is considered a more direct competitor with the premium cable outlet. Thus, a partnership with Netflix would dilute HBO's brand and the draw of a subscription for HBO.
Adding fuel to the competitive fire is the fact that HBO and Netflix were locked in a bidding war to pick up the series executive produced by Reese Witherspoon and Nicole Kidman back in 2015, according to The Hollywood Reporter. HBO won out, and with perfect timing, considering it suffered a drama series slump after the unmitigated disaster that was True Detective Season 2. Last summer's The Night Of started to dust off HBO's reputation and by the time Westworld hit, the network was pretty much in the clear of any critique about the quality of its dramas. Big Little Lies was another hit for the network. Additionally, a whopping 59 percent of its viewership was female, a source told Vulture. By comparison, its other sci-fi and fantasy genre dramas (Westworld and Game of Thrones, respectively) tend to perform better with male audiences.
Vulture also pointed out that "having this story play out over the course of two months allowed viewers the time to savor and appreciate each installment," which may have been lost if the show had released all at once on Netflix. Plus, with Netflix's already packed schedule, it's possible Big Little Lies would have gotten lost in the mix. Based on its success, it seems like the show landed where it was supposed to, but that may leave Netflix-only subscribers feeling bummed to miss out on it.