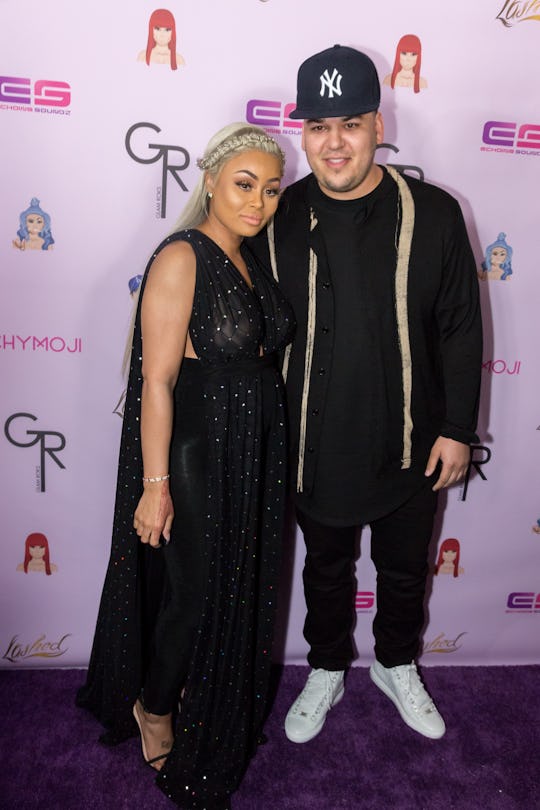 Greg Doherty/Getty Images Entertainment/Getty Images
Will Blac Chyna Be On 'Keeping Up With the Kardashians'? She Wants To Be Included
There has been a lot going on for Robert Kardashian and Blac Chyna. In April, the couple announced their engagement — three months after officially announcing their relationship — and just weeks ago, Kardashian and Chyna revealed they were expecting. However, with all these changes, many Keeping Up With The Kardashians fans are wondering how this news will impact the show: will Blac Chyna be on Keeping Up With The Kardashians? Well, maybe, but probably not.
In March it was revealed Blac Chyna was interested in negotiating a minor role on the show; however, TMZ reported that that appearance would cost Keeping Up With The Kardashians $1 million dollars. (According to sources close to Chyna, she believes that is the value of footage showing the relationship between her and Rob's sisters.) What's more, Chyna wants a non-exclusive contract. And while the Kardashian's have been mum on the matter, it seems unlikely Chyna will receive this type of deal for a "cameo."
However, Chyna will still be a subject on KUWTK — I mean, as Rob's future wife (and the mother of their child) how could she not be. However, while the 27-year-old was mentioned during the show's season opener, unfortunately, the context in which she was mentioned wasn't great. Kris Jenner mentioned Chyna during a fight with Rob. Apparently Rob regifted an iPad Kendall gave Chyna for Christmas and all hell broke loose or, according to Kendall:
Rob is dating someone that has kind of had a bad history with my family and he fully regifted my gift.
In fact, this iPad issue became such a big deal, Kendall demanded Rob — and, vicariously, Chyna — return the present, according to the New York Daily News:
It came with an iPad, a pen and a keyboard and I want it all back...because if you're not gonna use it I have someone who actually is really dying for it!
Kendall went on to add, according to the New York Daily News:
One I'm annoyed, two I'm actually hurt that you re-gifted my f--king gift that I went out of the way to give you.
(Yikes! Guess I should apologize to anyone whose gift I've ever regifted.)
Regardless, I guess we will just have to wait and see if Chyna makes an appearance.
New episodes of Keeping Up With The Kardashians air on E! every Sunday at 9 p.m.