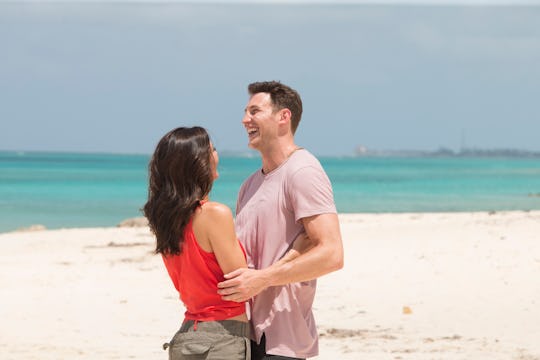 Paul Hebert/ABC
It's Time To Start Speculating About Next Year's 'Bachelor'
With only a few weeks of The Bachelorette left, fans are speculating who will be next season's lead. Will Blake be the next Bachelor? He's my favorite this season — and I'm certainly not the only one — so it's definitely possible.
Of course, seeing as Blake is still on The Bachelorette, there's no way he or ABC will make an official announcement until his elimination (should it happen), and likely not until the show itself is over. If past seasons are any indication, the announcement will not come on the After the Final Rose special as on The Bachelorette. Looking at last year as an example, the finale of Rachel Lindsay's Bachelorette season aired on August 8. The announcement that Arie was the next Bachelor wasn't until September 7. So once again fans could be looking at a one-month gap between Becca's finale and the announcement. Why? Because ABC likes to torture fans — just kidding. There will, of course, be Bachelor in Paradise to tide fans over. But my guess is that producers will be finalizing everything ahead of the announcement.
The wait can also be due to decision changes. A few times in Bachelor Nation history (that fans know of, anyway), producers have switched the lead at the last minute. For example, Caila Quinn was supposed to be The Bachelorette from Ben Higgins season, but JoJo Fletcher ended up getting the role instead. "It was nothing against Caila, but JoJo's storyline was just so compelling," a source told E! News at the time. "After seeing how she fell in love with Ben and then had her heart broken, there was no doubt that everyone's going to be rooting for her as Bachelorette."
The bait-and-switch has happened with The Bachelor, too. After JoJo's season, Luke Pell was set to be The Bachelor when producers changed their choice at the eleventh hour. "We were all satisfied, had agreed to the contracts and everything was moving forward," Luke said to Us Weekly. "I was checked in to my flight to come to L.A. I got a call from producers Sunday night at about 10 P.M. They said ABC had decided to quote-unquote go in a different direction." Luke continued, "I was supposed to fly out Monday morning at 9 A.M. I had my bags packed and everything. Most dramatic Monday ever!"
That "different direction" was two-time runner-up Nick Viall, whom some viewers were not happy about when the announcement was made. The same controversy bubbled over when Arie was announced — some members of Bachelor Nation had strong words for ABC. In particular, they wanted Peter Kraus from Rachel's Bachelorette season as The Bachelor, not this dude from Emily Maynard's season in 2012. Peter, who was Rachel's runner-up, actually turned the part down. There was never a cold turkey like, 'This is not happening,'" Peter told Us Weekly about a conversation with producers. "I was not ready for this and they agreed."
So, what about this season? Will someone from Becca's season — Blake, for example — be the next Bachelor? Well, during that particular Us Weekly interview, Peter said that he was "open" to being the lead in the future. So, there's definitely a possibility there. Furthermore, ABC may go rogue once again and not pick anyone from Becca or Rachel's seasons. Seeing as fans had harsh critiques for The Bachelor picks when ABC went that "different direction," though, I wonder if the network would risk it again.
Personally, I'm ready to start my "Blake 4 Bachelor" campaign, but I don't even know where he'll end up on the show. If he and Becca end up engaged, that obviously kills his Bachelor chances. If not, though, I think he'd be the best choice ABC can make. Bachelor Nation will probably have to wait until September to find out, but I know it'll be worth the wait.