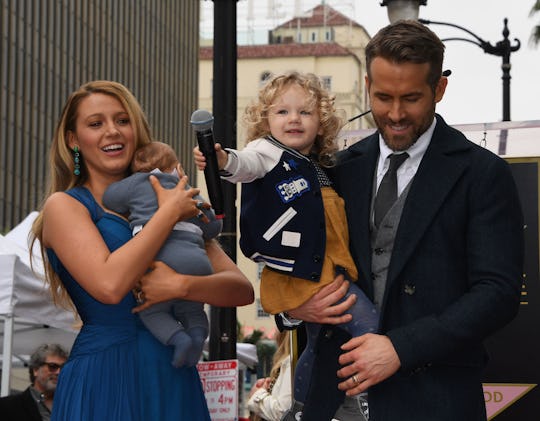 MARK RALSTON/AFP/Getty Images
Will Blake Lively & Ryan Reynolds Have Another Baby? They're Ready For More
Blake Lively and Ryan Reynolds are undoubtably a super cute, albeit private celebrity couple. Much of their marriage and the start of their family has been shrouded in secrecy — until this week. On Thursday, Lively and Reynolds made a public appearance with two-year-old daughter James and their unnamed newborn daughter for the first time ever. Their super adorable appearance together for the first time had fans begging to know — will Blake Lively and Ryan Reynolds have another baby? Because, lets be honest, their appearance proved that they know how to make some super cute children.
The family's first appearance together at Reynolds' Hollywood walk of fame celebration was so adorable. In her first ever appearance, little James looks so much like her mother and father. The family looked so happy together and Lively especially looked so comfortable during her first public appearance with her children. Since Lively looked so at east as a mom and the family looked seriously so adorable — will they add any more children to their group? In past interviews, Lively has stated that she does indeed want more kids — thank goodness. The answer is yes, Blake Lively and Ryan Reynolds will more than likely have another baby. It is just undetermined when they will have another baby — it seriously feels like Lively was pregnant yesterday.
In an interview this Friday on Sirius XM Entertainment Weekly Radio revealed that he wants to have a lot of children with Lively — specifically girls. "If I could have nine daughters, I would be thrilled," Reynolds said. "Really, like I genuinely would be."
While this might have been one of the more recent times that Reynolds and Lively have hinted about wanting a large family, it is in no way, the first time having more than two kids was mentioned. In June, while promoting her newest film, Lively told Today that the couple will more than likely have a few more kids, considering that Lively and Reynolds come from large families. "I'm one of five kids; my husband's one of four," Lively said. "We're officially breeders. You can go on our website and we will give you some of our children." And these are just some of their thoughts about family said just in the past year.
In previous years, Lively and Reynolds have stated time and time again that they want to grow their family. In 2015, Reynolds told GQ that he likes being a father. "I like having a daughter. I would like to have more kids. You know, it suits me pretty well." In 2014, Lively told Marie Claire that she wants to "spit out a litter of kids." And in 2013, Reynolds told Access Hollywood that he wants to have "lots" of kids saying "six [kids] is great."
There is no denying that Lively and Reynolds want to have more kids and grow their family. The question is no longer a will they have more — but a when will Lively and Reynolds have more.