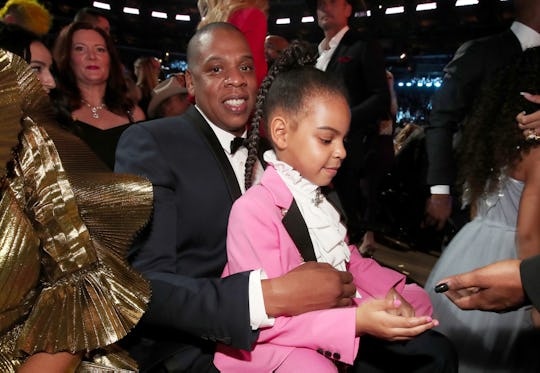 Christopher Polk/Getty Images Entertainment/Getty Images
It's A Safe Bet That Blue Ivy Is In JAY-Z's '4:44'
JAY-Z has just become a father again to obviously beautiful twins, but that's not all he's been up to. In a matter of hours, the world will get yet another gift from the Carters: JAY-Z's new solo album 4:44, which will be released exclusively by Tidal and Sprint on June 30. It's been a somewhat mysterious project thus far, but fans can probably expect there to do be some type of significance hidden in each track. And since he's been lyrically inspired by his 5-year-old daughter many times before, will Blue Ivy also be in 4:44?
While we won't know for sure until every song is released on Friday, it seems like a safe bet that JAY-Z's first born will also appear in his new album since he's done it before. According to Billboard, he included two songs about Blue Ivy in his 12th studio solo album Magna Carta Holy Grail in 2013: "Jay-Z Blue (Daddy Dearest)" and "Heaven."
In "Jay-Z Blue," the 47-year-old rapper contemplates his life as a father and husband and how his fatherless upbringing impacted these roles. In an interview with producer Rick Rubin before the release of his last album in 2013, according to Billboard, JAY-Z said:
My pop left when I was young, so he didn't teach me how to be a man, nor how to raise a child, or treat a woman. So, of course, my karma, the two things I need, I don't have. And I have a daughter. It's the paranoia of not being a great dad.
In the same interview, he revealed that "Heaven" was also inspired by his daughter and gets into how having a child changes your perspective on everything.
"For me, my idea of heaven is in your daughter's laughter; hell could be if your child is missing for three minutes — you're in three minutes of hell," JAY-Z told Rubin, according to Billboard. "It's just not my belief that a just God would make you burn for eternity for [the] free will that he gave you."
Of course, there's also the heavy symbolism behind the numeric name of his album. As Newsweek reported, the number four has "a deep and personal meaning to him" and his wife Beyoncé.
For starters, his birthday is on Dec. 4, while Beyoncé's is on Sept. 4 and their anniversary is also on April 4 (or 4/4). On top of that, Blue Ivy's name also a reference to IV, the Roman numeral for the number four, according to Newsweek.
According to Entertainment Weekly, Blue Ivy also appeared on Beyoncé's two previous albums, so it's not likely that her dad would leave her out of his latest project entirely.
While there are a lot of theories out there about what his songs will represent and who JAY-Z will feature in 4:44, it'd be very surprising if he doesn't pay homage to his oldest daughter, or his newborns, in his new album.