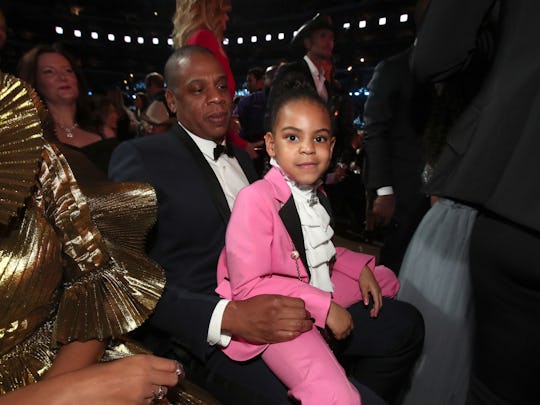 Christopher Polk/Getty Images Entertainment/Getty Images
Will Blue Ivy Release An Album?
JAY-Z's 4:44 was released in full on iTunes Thursday night, and it turns out the alleged cheating confirmation might not be the most interesting thing on the album: there's a bonus track featuring the rapper's 5-year-old daughter freestyling. (However, the track isn't available on the iTunes album; you can only get it on a physical copy of 4:44.) Now fans are wondering if Blue Ivy will release an album of her own, because she's been showing up on her parents' tracks for years, and it's about time she gets her own chance in the spotlight.
Blue's portion of the track, "Blue's Freestyle/We Family," is less than a minute long, but fans are already clamoring for more. Unfortunately, it might make some listeners miss the days when we could hold an album in our hands and it came with something called liner notes, which told us what the heck the artists were saying. According to XXL, one line sounds a lot like "Never seen a ceiling in my whole life," which sounds pretty on-brand, but you've got to wonder if she really wrote that herself. Meanwhile, the folks over at the lyrics-notation crowdsourcing site Genius are doing their best to figure out not only what Blue's saying, but what she means. Reminder: it's a freestyle, and she's only 5, so she might not mean much of anything, but that doesn't mean it's not fun.
This is actually Blue's third credit; she first graced the world with her voice on her Dad's single, "Glory," when she was just days old. And if you don't consider a crying infant to be a bona fide recording artist, she made another appearance on Beyoncé's self-titled album less than two years later, giving her Mom a little help on the chorus of the final track, "Blue." And yes, that time she actually sang. On last year's Lemonade, a sample of her exclaiming "Good job, Bey!" can be heard at the end of "Daddy Lessons," and she was featured prominently in the videos, which I guess makes her a model/actress, too.
Blue might need a little more practice before she's ready to go solo, but she'd hardly be the first young artist. The members of Another Bad Creation ranged in age from 5 to 12 at their inception, Lil' Bow Wow was discovered by Snoop Dogg when he was only 6, and shortly after joining his brothers' act as a tambourine player at age 5, Michael Jackson ending up stealing the lead vocals spot.
And Blue won't have to work her way up from YouTube or the county fair circuit to get a recording contract, since she already has some pretty serious connections. Both of her parents have worked with the hottest producer around, 8-month-old Asahd Tuck Khaled (maybe you've heard of his dad). If Blue can get in with him, she'll be halfway to platinum.